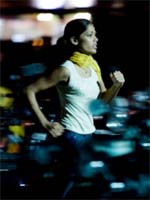 Thanks to bright-eyed, bushy-tailed commenter Silrone for pointing out that the winners of the British Independent Film Awards were announced while I was mired in technical problems.
"Slumdog Millionaire" emerged as the evening's big winner, taking Best British Film, Best Director and Best Newcomer for Dev Patel, though "Hunger" ran it close, also taking three prizes, including Best Actor for Michael Fassbender. I'm simultaneously surprised and unsurprised: "Slumdog" was certainly the obvious frontrunner, but the BIFAs have a history of not following the script.
Such was the case in the Best Actress category, where "Happy-Go-Lucky"'s seemingly unbeatable Sally Hawkins lost out to Vera Farmiga for "The Boy in Striped Pyjamas." I'm disappointed for Hawkins, though she will have other opportunities this season. In any case, I'm quite pleased to see some credit for Farmiga, my admiration for whom I recently expressed on these pages.
Meanwhile, "Happy-Go-Lucky" was rewarded with well-deserved victories for supporting stars Eddie Marsan and Alexis Zegerman, while my fellow "In Bruges" fans will be pleased to see Martin McDonagh took home some hardware for his writing.
Incidentally, I scored 7/13 in my predictions. Poor form — hopefully it's all up from here. Full list of winners below the cut.
Best Picture: "Slumdog Millionaire"
Best Director: Danny Boyle, "Slumdog Millionaire"
Best Debut Director (Douglas Hickox Award): Steve McQueen, "Hunger"
Best Screenplay: Martin McDonagh, "In Bruges"
Best Actor: Michael Fassbender, "Hunger"
Best Actress: Vera Farmiga, "The Boy in Striped Pyjamas"
Best Supporting Actor: Eddie Marsan, "Happy-Go-Lucky"
Best Supporting Actress: Alexis Zegerman, "Happy-Go-Lucky"
Most Promising Newcomer: Dev Patel, "Slumdog Millionaire"
Best Achievement in Production: "The Escapist"
Best Technical Achievement: Sean Bobbitt, "Hunger" (cinematography)
Best Documentary: "Man on Wire"
Best Foreign Film: "Waltz With Bashir"
Raindance Award: "Zebra Crossings"
Best Short Film: "Soft"
Richard Harris Award (Outstanding Contribution to British Film): David Thewlis
Variety Award: Michael Sheen
Special Jury Prize: Joe Dunton