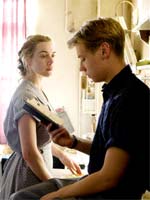 After a couple of days in post-screening limbo, the reviews for "The Reader" are in, and while there's much praise for the film, I suspect the response may not be quite what Harvey Weinstein was hoping for.
The general impression appears to be that it's intelligent, well-crafted and delicately performed, but as Kris anticipated recently, there are concerns that it may prove too distant and cerebral for many audiences … including the Oscar voters. Jeff Wells is one prognosticator striking the film from his list of Best Picture ponies: "Sorry but that's the verdict I'm hearing. Intelligent, well written, handsomely shot, doesn't deliver emotionally."
That "verdict" is echoed almost exactly in Variety's coolly respectable review:
Stephen Daldry's film is sensitively realized and dramatically absorbing, but comes across as an essentially cerebral experience without gut impact. Classy package will appeal to upscale specialized auds and the bookish set but pic will have trouble crossing over to the general public Stateside.
As for Kate Winslet, widely deemed the film's brightest awards prospect, they are impressed by the performance, but find the character impenetrable:
A central problem with "The Reader" as a film is that one can never look inside the character of Hanna. Her life and behavior are invariably assessed from the outside — what she represents to Michael, the way the court and history take stock of her actions — but never by her … Winslet supplies a haunting shell to this internally decimated woman, one who can perhaps momentarily escape from her shame through sex but for whom there is no past she can possibly face and no future to anticipate.
Screen International, however, has fewer reservations, disagreeing with Variety on the audience accessibility issue, and declaring the film a clear-cut awards contender:
Although it struggles under the weight of its source novel's multiple temporal shifts, "The Reader" is for the most part a superbly fluid, elegant film crafted with distinctly European sensibilities which suit the bitter story at its heart … It takes Daldry to another level as a filmmaker of great nuance, and should be a major draw for intelligent audiences everywhere … Although older awards voters will find the Holocaust-themed film an uncomfortable one to watch, it will inevitably be a leading contender in multiple categories and could finally deliver Winslet her Oscar.
Finally, The Hollywood Reporter continues the run of praise for the film, but wonders whether it has come along at the right time of year:
Certainly "The Reader," for all its erotic scenes involving Kate Winslet, presents a difficult marketing challenge. The lively, nonlinear structure imposed by screenwriter David Hare and tight, focused direction from Stephen Daldry make this an engaging period drama. But German postwar guilt is not the most winning subject matter for the holiday season.
They also find themselves unable to empathise with Winslet's character, but declare the actress (together with co-star David Kross) best in show:
To Winslet and Kross belong the gutsy, intense performances of the film. Lena Olin as a unyielding camp survivor and Bruno Ganz as a sagacious law professor put in memorable appearances. Fiennes is solid as the elder Berg, but by this stage of life the "oldness" Hanna once exhibited has caught up with him too, making his a somewhat listless role.
Difficult to know what to make of this all. The reviews are better than I expected they might be, but there still isn't anything here to persuade me that the film is a Best Picture contender, despite what Screen International believes.
Winslet's backers should be happy with those notices, but if her character is really that difficult to connect with emotionally, it could be a drawback to her Oscar chances. For me, she still hovers outside the top five for Best Supporting Actress — until a couple of relevant precursors suggest otherwise.