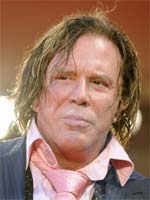 The New York Times has been a veritable piñata of goodies these past few days. In addition to the return of the Carpetbagger, they are treating us with a double-shot of "Wrestler"-related interviews, one with relative newbie screenwriter Robert D. Siegel, and of course, a massive profile of man-of-the-hour Mickey Rourke.
I'm not sure what it is about Rourke, but he clearly brings out the best in journalists. His interview with Kris was, I think, one of the most inspired to have graced these pages, and this vast NYT piece follows suit. With none of the affectations that often come with overly PR-directed interviews, he exhibits the kind of open, candid sense of self that can only come with having got both the sweet and the fuzzy ends of the lollipop in his career; he's one of the few movie stars around today who not only has interesting stories to tell, but is actually willing and able to tell them.
As usual, this one's full of nice incidental tidbits, whether he's admitting that "Harley Davidson and the Motorcycle Man" is the only film he regrets making (really? So "Wild Orchid" was okay, then?), or offering sage advice on dog-parenting. (On being told that peanut butter and bacon isn't really a suitable diet for his beloved pug Loki, he shoots, "She's sixteen years old … she can have whatever she wants.")
But the meat of the interview comes when he confronts his own career collapse, rationalising it in a surprisingly lucid and moving way:
I resented all the money and what came with it, the way people treated me in a special way. I didn't know how to play the game. Nobody told me it was a business. I thought my acting talent transcended the business of films. I never had a game plan for my career. I didn't have the tools for that. If I would have been educated enough, I might have avoided a lot of pain. So I became arrogant and self-destructive. I fought everyone 'cause I thought that was a kind of strength, but it became my weakness.
Throughout the interview, it's clear that he knows the scale of his talent, and doesn't hide behind any false golly-gee modesty. You have to love his brashness here, where he discusses being dropped from a key role in Jane Campion's controversial (and underrated) 2003 thriller "In the Cut," back when it was still slated to star Nicole Kidman:
Nicole Kidman, who was for a time cast as the lead, didn't want to work with him. Rourke looked up from his fish with his sly smile. "If I was Nicole Kidman, I wouldn't want to work with me, either," he said. "She'd have to stand up to the plate and get exposed. She wouldn't have known what hit her. I was flat broke at the time. That would have been my first big part in a comeback. But it was my fault to put myself in a position where someone like her could dictate whether I worked or not."
Well, the comeback happened eventually — and true enough, nobody quite knows what hit them. I could quote endlessly from the interview, but it'd serve you better just to read the whole thing here. I really hope this guy takes home a bit of hardware this awards season, not just because his performance is a thing of beauty, but because I'm dying to hear what he'd have to say on stage. How often can you really say that about an actor?