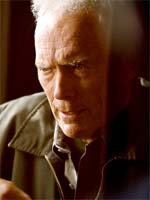 After being kept under wraps for so long, word is finally starting to emerge on Clint Eastwood's presumed awards contender, "Gran Torino." Dave Karger already expressed his approval of Eastwood's performance a few days ago, and now Patrick Goldstein also gives the film a firm thumbs-up.
Calling it "a heartfelt portrait of human redemption," Goldstein also suggests that it "couldn't (be) a nicer swan song" for Eastwood's acting career, as has widely been reported. What he seems most impressed by, however, is the film's screenplay — and he's shocked to discover it's a fledgling feature effort by unknown writer Nick Schenk:
The script was so well crafted and understated (and the credits went by so fast) that after seeing the picture, I immediately called Bill Gerber, one of the film's producers, to find out which one of the many A-list screenwriters who must always be knocking down Eastwood's door had penned the story. "Are you sitting down?" Gerber asked. He had quite a surprise. The writer, Nick Schenk, who lives in Minnesota, had never sold a feature script in his life. In fact, the only writing work Schenk had done was for "BoDog Fight," a mixed martial arts TV show, a game show called "Let's Bowl" and some comedy sketches collected in a DVD called "Factory Accident Sex." ("That title doesn't exactly help my career, does it?" Schenk jokes.)
It is a bit of a fairytale story, one that should inspire any young screenwriter out there struggling to make ends meet. (Who, me?) Goldstein discusses the trajectory of Schenk's script in more detail here, and it makes for interesting reading. Whatever one makes of the film in the end, it's hard not to be won over by Schenk's golly-gee ingenuousness:
"I was too stupid to quit," he said. "Writing is just a great thing to do. It's creative, you get to solve problems and it beats doing construction. I don't recommend writing in a bar. It just worked for me. And I don't know what will happen next, but right now, I'm happy. I know that if your script gets made by Clint Eastwood, it couldn't be in better hands."
One has to wonder, with an Original Screenplay field largely devoid of weighty Best Picture contenders, whether Schenk's dream career journey might take him all the way to Oscar night.