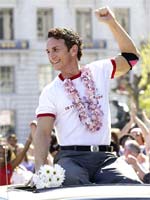 Well, Kris was brave enough to stick his neck out and venture some winner predictions, so I thought I'd follow up on that — with the strict caveat that, while nobody knows anything, I frequently know even less.
So my own predictions are after the cut. I don't think them informed enough to place on a main page, but in the interests of diversity (and maximum egg-on-face potential), there they are. I was interested to see that, judging from the impressive response to Kris' initial post, you readers and I are of a like mind in several areas. I specifically waited until after I'd drawn up my own foolhardy picks before looking at yours, and was surprised by some of the parallels that emerged.
So let's take a look at how you voted, shall we? I see some enterprising commenter on Kris' post has already collated the data and drawn up percentages, and short of drawings up bar graphs and pie charts, I wouldn't want to compete with that kind of specificity. (Seriously, I wouldn't.) But even without getting mathematical, some trends are clear.
In the top category, I expected to be in a significant minority picking "Milk," but you have it breathing hotly down "Benjamin Button's" neck as the frontrunner, with 11 and 13 votes respectively. A mere two of you side with Kris in picking "Slumdog Millionaire," which, obtuse creature that I am, makes it the smarter choice in my mind. And yet, thrilled as I would be to see Team Boyle onstage come Oscar night, I can't quite go there. Right now, "Milk" ticks too many boxes: dazzling reviews, emotionally charged, politically relevant, a more accessible effort from a long-revered filmmaker. It makes almost too much sense to me.
Things are less tight in Best Director, where David Fincher enjoys over half your votes, with Danny Boyle and Gus van Sant (my choice) neck-and-neck for second place.
We match once more in the top acting categories, with Sean Penn narrowly ahead of Leonardo DiCaprio (whose degree of support surprises me, I must admit), 12 votes to ten. Only three of you are buying the Clint Eastwood hype, fewer than are backing Mickey Rourke, though one wonders how things might shift as "Gran Torino" becomes a more familiar commodity.
Your Best Actress pick is less fiercely contested, with Kate Winslet ("Revolutionary Road") comfortably leading the pack, with Cate Blanchett and Meryl Streep in distant (and tied) pursuit. I'm with you there, for now, but I must admit I'm wavering, as Winslet's two-pronged campaign continues to raise questions in my mind.
Only two of you are ballsy enough to stand up against the Heath Ledger juggernaut in Best Supporting Actor, both plumping for Michael Shannon. I'm not so courageous. I finally veer from the pack in the Best Supporting Actress category — Penelope Cruz enjoys the most reader support, but I share Kris' inkling that Viola Davis is going to nab this one.
I could go on, but the more I wade through the races, the more I begin to overthink my own picks. I'm happy to be entirely alone in four whole categories. Every prediction list needs its quirks. I part ways with Kris in a majority of categories, which either means he's wrong, I'm wrong (far more likely) or, well, we're all wrong. However it pans out, you'll be able to ruthlessly jeer at least one of us come February (or maybe even on nomination morning.) And that's always fun. So think of this as my deferred Thanksgiving present to you:
Best Picture: "Milk"
Best Director: Gus van Sant, "Milk"
Best Actor: Sean Penn, "Milk"
Best Actress: Kate Winslet, "Revolutionary Road"
Best Supporting Actor: Heath Ledger, "The Dark Knight"
Best Supporting Actress: Viola Davis, "Doubt"
Best Adapted Screenplay: "The Curious Case of Benjamin Button"
Best Original Screenplay: "Milk"
Best Art Direction: "Australia"
Best Cinematography: "The Curious Case of Benjamin Button"
Best Costume Design: "Australia"
Best Film Editing: "The Curious Case of Benjamin Button"
Best Makeup: "The Curious Case of Benjamin Button"
Best Music – Original Score: "The Curious Case of Benjamin Button"
Best Music – Original Song: "Slumdog Millionaire"
Best Sound Editing: "The Dark Knight"
Best Sound Mixing: "The Dark Knight"
Best Visual Effects: "The Curious Case of Benjamin Button"
Best Animated Feature Film: "WALL-E"
Best Documentary Feature: "Blessed is the Match: The Life and Death of Hannah Senesh"
Best Foreign Language Film: "Everlasting Moments"