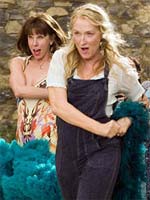 Screen Daily delivers the bewildering news:
Day one sales of "Mamma Mia! – The Movie" have beaten "Titanic"'s record, to become the fastest selling DVD of all time in the UK. Sales reached 1.669 million units, following its launch on November 24.

The previous record for day one DVD sales was held for 10 years by James Cameron's Titanic. It sold 1.1 million units on its first day of release in 1998 in the UK.
This is just the latest milestone in a truly staggering journey for the film that has already seen it become the second-highest grosser of all time in the UK, again breathing down the neck of "Titanic." Meanwhile, with a worldwide cume of other $560 million, it is handily the highest-grossing musical of all time. Words fail me.
I sense at this point that BAFTA will be unable to ignore the homegrown phenomenon. (Hell, people are making similar demands on AMPAS regarding "The Dark Knight." Better film, but try telling that to the 1.6 million Brits who rushed out to the DVD store this week.)
So I'm officially predicting right here that "Mamma Mia!" will be nominated for Best British Film come January. I'm also banking on a Best Actress nom for Meryl Streep, whether in place of or alongside "Doubt." (BAFTA permits actors to be nominated twice in a category.) Julie Walters, as I mentioned earlier, looks like an inevitable Best Supporting Actress candidate.
Finally, I'd count on a scattering of craft nods — sound, costume design and music. (Again, BAFTA's curious rules make it eligible in this category — "Chicago," "Walk the Line" and "Dreamgirls" all made it.) And hell, why not throw Amanda Seyfried into the mix for their Rising Star Award?
So, that makes seven BAFTA nominations. I'm just saying. Forewarned is forearmed.