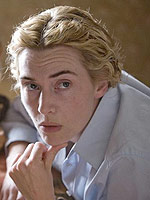 Gold Derby's Tom O'Neil attended an east coast screening of "The Reader" this week, which featured a Stephen Daldry Q&A session afterward.  He reports as follows:
"I tried to leave things ambiguous," Daldry said. "I want to keep what she learned and what she didn't from us. It's not for us to know."

During the first part of the film, it's clear that Kate Winslet's character, Hanna, is "morally illiterate," Daldry added. (There were loud gasps throughout the audience when he uttered that phrase.) But later in the story, Daldry said, he and screenwriter David Hare cautiously applied "complicated calibration to try to find careful relations to when you are sympathetic to her and when you're not."

Two Oscar pundits who saw "Revolutionary Road" and "The Reader" this week and who asked not to quoted by name (for reasons I don't understand but will honor) believe that "The Reader" has a better shot at a best-picture nomination and even a lead actress bid for Winslet. A few others I admire disagree and pick "Revolutionary Road" for both categories. Personally, I haven't sorted out my own thoughts yet, but the former opinions — and the response "The Reader" got Tuesday night in New York — tell me that Harvey Weinstein may be quite happy on Jan. 22 when noms are unveiled.
Contrast that with the fact that I've jerked the film from a number of categories this week and I think you're looking at a mixed bag at the moment, at least on the prognostication front.  I only have my gut to go by for now.  We need more people to see this thing and speak up.  But I think this peek-a-boo game Daldry says he was playing with Winslet's character's feelings and that general "uncertainty" will make it a tough AMPAS sell.  My two cents, anyway.