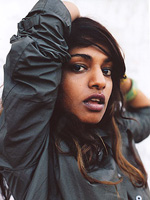 "A.R. was the most established, amazing producer…He works with 100-people orchestras, and his sound is huge. Then on the other end of the room was me, making music on GarageBand [software] and playing Danny these really gritty, badly recorded MP3s. We had all these meetings and stuff, and then I realized that's what the movie is — it's the contradiction between these two things. That's what the whole continent [of India] is…

"If I was painting a picture of that part of the world, it's not that I'd make it more glum, but I would try not to involve all the positive stuff from it, like the singing and dancing and easy stuff. I think we're already used to that, and comfortable with that part. So there times that I was like, 'We don't have to make it so Bollywood' … Danny, I think, wanted it to be good on both sides. He wanted the Indian population to get it, as well as the West. That's a really difficult thing to do, and I think he did it — I think he did it really well."
From Todd Martens's 11/24 interview with artist M.I.A., re: her electrifying work on the "Slumdog Millionaire" soundtrack.