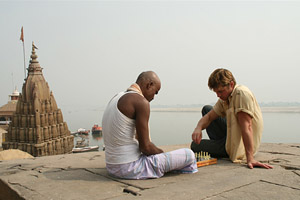 This year's Oscar season is sapping the creativity from my bones.  Perhaps it's foolish to come to this space every week and offer a full-blown column.  Sometimes there isn't much to talk about.  This year, however, the things we do have to talk about don't seem worth talking about.
"The Curious Case of Benjamin Button," for instance, was the most anticipated film of the season.  But three days after finally seeing the film, I'm not feeling the resonance I anticipated.  The film is a cinematic marvel, a stroke of screenwriting brilliance and a massive leap forward across an array of technical achievements.  But it hasn't captured my imagination like I thought it would.
Your guess is as good as mine on that one.
"The Reader" finally screened to the press at large yesterday, both here in Los Angeles and in the Big Apple.  The buzz leading up to the big reveal was that, hey, this might be a bigger contender than we anticipated.  But personally speaking, the result is almost an afterthought — no lingering, no spirited embrace of the film's themes and story particulars.  Just another film.
So, is it just me, or is the soft landing of so many of the year's perceived heavies beginning to tangibly expose 2008 as the Oscar low point we all thought it would become?
I find it interesting that one of the year's best entries, Charlie Kaufman's "Synecdoche, New York," is all about an artist struggling to make something meaningful, something everlasting.  That seems to be the aim of a number of the season's hopefuls, and like Caden Cotard, they never quite get there.
Another of the year's best, "Pineapple Express" (of all things), is a romp with no particular artistic focus, a blending of David Gordon Green's stranglehold on the mundane and Seth Rogen's grasp of the new funny.  No reason for it to be on the top tier, yet there it is.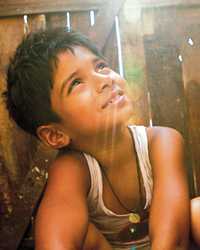 Which brings me to the one film that sends a shockwave through my system every time I watch it: Danny Boyle's "Slumdog Millionaire."  In a year dreadfully morose or otherwise low key, here is a film — and a filmmaker — seemingly unburdened by the world's harsh realities.  Indeed, it's a film that uses those realities toward the resolution of a whimsical narrative that stands out as a result.
I can't help but wonder if I'm the only person having this reaction, which is why I can't shake the feeling that "Slumdog Millionaire" will be this year's Oscar victor.  The Fox Searchlight story has been a beautiful one, the studio landing three critically acclaimed but unabashedly light-hearted films in the Best Picture race three years in a row.
Eighteen years after the studio set up shop and 11 years after its first brush with major awards success, how serendipitous would it be for a Simon Beaufoy-scripted effort to once again surprise during the awards season, but as a victor this time, rather than as a mere dark horse nominee?
And furthermore, if the competition is "The Curious Case of Benjamin Button," how atmospherically different (yet thematically similar) could two contenders possibly be?  I sense a rift on the horizon.
Or maybe not.  This is the damnedest Oscar season I've seen yet…and I've seen a few.  I wouldn't place a bet on anything, even perceived shoo-ins.  What's more, to have such an "off" year like this in the midst of the Academy's most turbulent era of change and metamorphosis — toss a coin, folks.
What is left isn't drawing the same enthusiasm as the films that finally dropped over the last two weeks.  "Gran Torino," screening in Los Angeles on December 1 and having already shown to a handful of critics and journos, is increasingly being considered more of a star vehicle for Clint Eastwood to make a play at a Best Actor trophy.  Walt Kowalski could be his Rooster Cogburn.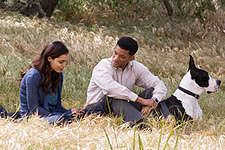 "Seven Pounds," meanwhile, could be a surprise for more than a few.  I've heard some "Crash" comparisons, which could be good or bad depending on your tastes.  It could be something special, but you wouldn't know it by those non-descript, Will-Smith-on-a-milk-carton posters.  We'll know in about 10 days (well, we better know — I have a BFCA ballot I need to fill out sooner or later).
But that's all we have to look forward to at this point.  Weird how that happens.
Mainly, I'd say it's time to start really putting this awards year into perspective.  December is less than a week away and I feel like the season, despite more waiting than usual, has been flying by.  Before long it'll be January, and names like David Fincher, Danny Boyle, Gus Van Sant, Ron Howard and Sam Mendes will give way to Michael Mann, Peter Jackson, Mira Nair, Kevin Macdonald, Martin Scorsese, James Cameron and, yet again, Clint Eastwood.
I'm ready if you are.

Main Category Charts
Technical Category Charts
The Contenders
Oscar Prediction Archives