"In the feature film world, we television writers barely exist," explains J. Michael Straczynski screenwriter of Clint Eastwood's "Changeling," starring Angelina Jolie.  "So for this to all happen so fast is really a fairy tale year for me. I am elated with how this has all gone down and changed the course of my life."
Straczynski was making a fine living on the small screen, writing episodes of "Murder She Wrote" and "Jake and the Fatman" before moving on to  Showtime's series "Jeremiah" and "Babylon 5," two of his most well-known credits.  He had worked as a journalist for the Los Angeles Times and upon discovering the story of Christine Collins, he put it on the back burner for a few years until he found the time to do it right.
He describes his research and fact-finding like "putting a jigsaw puzzle together" for the simple reason that facts and articles had been lost, and they simply did not have the technology then to store everything he required. Taking a year off writing television, he researched the Collins case and put a script together, which his agent sent off to Imagine Entertainment and Ron Howard.  The script was bought as is and Howard wanted to direct the film, but when his schedule became impossible, "Frost/ Nixon" looming on the horizon, he sent the screenplay to Clint Eastwood.  The grizzled vet read the work on a plane back to the States and committed to direct after the first reading.
Yes.  This was a FIRST DRAFT that went before the cameras within a year of being sold, something rather unheard of in Hollywood unless you're Woody Allen.
"To have Eastwood commit to direct? I mean the man is an icon of American cinema, as you well know", explains Straczynski by telephone from Los Angeles.  "I was thrilled when he agreed to do the film.  Does it get any better than that? Of course the writers strike prevented me from being on set as often as I would have liked, but any time I was there it was a masters class in filmmaking. Clint was so organized, so generous with his actors, so genuine with everyone around him. The script could not have been in better hands.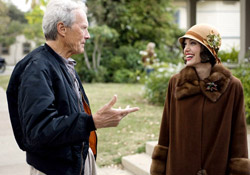 "He did something quite unique with Miss Jolie,"  he continues, "knowing that the paparazzi would hound the poor girl, he did everything humanly possible to separate the film set from that world. He shielded her, protected her and created an atmosphere where she was free to create and do the sort of work she became famous for doing before all this tabloid nonsense came about. I think she did an incredible job in the part. She reminded us of the fact she was always an actress first."
The first time Straczynski saw the film was in an editing bay at Clint Eastwood's Malpaso Productions.  He says it was a very curious thing to see his script come to life, wondering where this line was or why that scene was left out, etc.  But what Eastwood created was "something very special. He, and this whole experience has changed my life in ways I cannot quite comprehend. It goes back to that famous Hollywood dream factory story: you really can come to this town with nothing and reach for the greatest of heights."
When it was first released, "Changeling" seemed to be Oscar bound, with strong reviews from the major papers and journals, but the film stumbled at the box office and soon, detractors began to surface.  In fact, in some major cities, the film has played out and those Oscar chances have slipped dramatically. That said, Straczynski and Jolie represent the film's best chances for Oscar nods, and come nomination day, I have every confidence the writer will be nominated for his first Academy Award for creating this American masterpiece.
Asked to consider his thoughts on the awards prospects of "Changeling," Straczynski pauses for a long while.  It clearly isn't something on his mind 24/7 like some of us.
"You know I have thought about it," he says, then, with a laugh, "but I have also seen 'For Your Consideration' (Christopher Guest's 2006 spoof on the awards season).  I am just enjoying this whirlwind for now and if that happens, terrific, but if not, I still have gained so much for the experience."