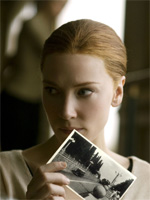 UPDATED: Slow on the uptake again, the Hollywood Reporter finally offers the unqualified rave we've been awaiting. Gushing praise in all departments, including a big thumbs-up for Pitt ("his most impressive outing to date"). Blanchett, meanwhile, "illuminates the screen." No issues with digital or emotional aloofness to be found.
EARLIER: A couple of days ago, in the midst of his generally positive take on "The Curious Case of Benjamin Button," Kris mentioned that the work felt "strangely cold." It was an observation rather than a criticism, and Kris suspected he may be in a minority.
Well, reading the first few reviews, it would appear that he isn't. Todd McCarthy's near-rave for Variety describes the film as "richly satisfying" but also "emotionally cool," blaming the film's extensive CG work for a slightly distancing effect:
Fincher spends 13 minutes short of three hours telling this unique man's life story, and the time goes by easily, with no sense of dawdling, waste or indulgence. The film evinces a sure hand that maintains narrative confidence, steadiness of tone and a mature awareness of the temporal nature of life's opportunities and the fleeting quality of happiness.

Still, for what is designed as a rich tapestry, the picture maintains a slightly remote feel. No matter the power of the image of an old but young-looking Benjamin, slumped over a piano and depressed about his fading memory and life; it is possible that the picture might have been warmer and more emotionally accessible had it been shot on film.
McCarthy also appears to share Kris' view that Cate Blanchett is the more dominant presence in the film:
In all his physical manifestations, Benjamin is a reactor, not a perpetrator, and Pitt inhabits the role genially, gently and sympathetically. Blanchett's Daisy is the more volatile and moody one and, after bluntly revealing the selfish impetuousness of Daisy's youthful self, the thesp fully registers both the passion and insecurity of the mature woman.
Screen International, meanwhile, finds much to admire in the film, but ultimately deems it a noble misfire:
A wildly ambitious fantasy which contains many intriguing elements and superb production values but ultimately fails to cohere as the epic tragedy it wants to be … Paced elegantly, but with determined leisure by Fincher over 166 minutes, this elongated whimsy is not easy to engage with emotionally, even while it frequently recalls writer Eric Roth's own 1994 effort Forrest Gump in its story of a fictional misfit caught up in 20th century history.

The curious thing about Benjamin Button is the questionable profundity of this lengthy saga. Is it a meaningful parable about love and time or is it just a gigantic shaggy dog story? With that in mind, you can't help but look at your watch occasionally and wonder whether some plot meanderings, while always pleasant, have any bearing on the story whatsoever.
They have high praise for the performances too, but declare David Fincher "the real star of the movie." Back at Variety, Anne Thompson is also struggling with some mixed feelings over the film. Though she ends up falling on the positive side of the fence, calling it "extraordinarily moving," she finds Pitt's protagonist a little hard to connect with:
While I admire the film's amazing accomplishment–it's hard to imagine that anyone but the digitally sophisticated Fincher, who has become adept at "painting" his digital canvases, could have pulled this off–the movie is not entirely satisfying. But given what it is, it's hard to imagine it being done done any better.

The actors are superb, especially Pitt and Cate Blanchett, who should earn Oscar noms. What's missing has partly to do with the limitations of the technology. Button reminds me of Peter Sellers as Chauncey Gardner in Being There. He's oddly passive and restrained, zen-like as he floats through all the decades, watching, listening, learning. He narrates the tale via his diary, along with his dying love Blanchett. We see him engaging with people, but he never says much. We see him from the outside; we never get under his skin, and we never learn the fruits of his wisdom. He stays much the same.
I must confess I'm a little confused by this. There is clearly a lot to love about the film, but so far, few of the responses project the unreserved passion that Dave Karger expressed a few days ago. This could change as more reviews emerge, but I wonder if this may wind up as one of those films that is more admired than it is adored.
Even if this turns out to be the case, it's difficult to say what this means for its Oscar chances. Emotional aloofness is usually a turn-off for Academy voters, who gravitate towards warm-blooded sentimentality more often than not. But things might be changing — just last year, "No Country for Old Men" became one of the iciest Best Picture winners of all time. "The Departed" wasn't a box of kittens either. While "Benjamin Button" looks more like a "typical" winner (if such a thing exists) than either of those films, its supposed coolness might actually chime in with the Academy's pricklier mood of late.
Even if a consensus emerges that "Benjamin Button" is actually flawed, that may be less of an obstacle this year than it would be in others. It's no secret that this is a lean year for contenders — one can almost sense Hollywood's desperation to find a frontrunner that everyone can be on board with. "Milk" might still be that film, but almost all the other heavy-hitters seem either too divisive ("Revolutionary Road," "Australia") or too eccentric ("Slumdog Millionaire," "The Dark Knight") to take poll position.
So I'm still betting on a "Button" sweep, if only by default. If more people believe that's it's unequivocally great, so much the better. But in a year like this, even near-greatness might be enough.