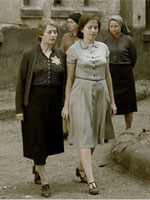 Whenever an awards shortlist is announced, people will inevitably spend as much time, if not more, pondering its omissions as they will its inclusions. And so it has been this week, in the wake of the Academy's announcement of the 15 titles shortlisted for Best Feature Documentary.
Some are curiously kvetching that Bill Maher's sporadically amusing but ultimately pedestrian "Religulous" got slighted, instead of commending the Academy for looking beyond the obvious. Others (including yours truly, admittedly) are puzzled that the excellent "Roman Polanski: Wanted and Desired" didn't make the cut, while some are surprised that last year's winner in the category, Alex Gibney, was frozen out this time. (Well, had "Gonzo" been half the film "Taxi to the Dark Side" was, he might not have been.) And then there's "American Teen" and "Bigger, Faster, Stronger" and … well, you get the idea.
The conclusion to draw from this is twofold. First of all, in this category, name recognition isn't always a deciding factor. Second of all, and more simply, the shortlist is, even with these high-profile exclusions, a markedly strong one. Boiling it down to fifteen titles was clearly a harder task than one might have guessed.
I'm not sure enough people are recognising the breadth and the depth of the competition in this category. Amid the various reactions I've read to the shortlist, I've noticed the same small handful of contenders coming to the fore: "Standard Operating Procedure" from previous champ Errol Morris, "Encounters at the End of the World" from the long-slighted Werner Herzog, Sundance victor "Trouble the Water," and the film widely deemed the one to beat, "Man on Wire."
I'm less convinced. Yes, they're all highly acclaimed conversation pieces. (Well, almost — Morris' film appears more polarising than the rest.) Yes, they all have enjoyed comparatively prominent releases. But, like the notoriously wilful Best Foreign Language Film category, this category doesn't always reward a high profile. For every time they've embraced a populist frontrunner like Michael Moore, they've ignored a supposed shoo-in. Just ask, well, Errol Morris and Werner Herzog — both previously snubbed for some of their most lauded work.
Crazy as it may sound, I'm particularly nervous for "Man on Wire." Terrific film, strong box-office, through-the-roof reviews (a Metacritic score of 89 puts it in second place for the year) … but I'm still not sure if the stodgier Academy voters will get it. The story of Philippe Petit's 1974 "artistic crime of the century," a tightrope walk between the Twin Towers, it's exciting, witty, stylish, cool — everything, in other words, the Academy usually doesn't respond to in this race.
They tend to like their documentaries with a veneer of social worthiness, tackling either a topical hot-button issue ("An Inconvenient Truth"), a noble humanitarian cause ("Born Into Brothels") or failing that, simply the Holocaust (too many examples to mention).
Great film that it is, I can't help wondering whether they'll find "Man on Wire" sufficiently "important" for the gold. I have a feeling that the more current, heart-rending social consciousness of "Trouble the Water" could well prove more tempting to the voters in the post-election landscape — and that's just one of the more high-profile of several potential spoilers on the shortlist.
It's all conjecture at this point, of course — there are precedents to prove either side of the argument. Though "March of the Penguins" demonstrated that anomalies can occur if a film becomes enough of a popular phenomenon, the notorious snub of "Hoop Dreams" showed that the Academy doesn't always take kindly to being told by critics how they should vote in the category.
So, in the interests of broadening the playing field, here are five less-discussed suggestions for an alternative slate of nominees. I can imagine any one (or two, or three, or more) of them taking the place of more hotly-fancied contender in the final lineup. This is one category where expecting the unexpected frequently pays off.
"At the Death House Door": And, as it happens, our first contender comes from the acclaimed director of — what do you know — "Hoop Dreams." Steve James and Peter Gilbert's film about the wrongful execution of a Texas prisoner raises the ever-contentious issue of the death penalty from an Academy-friendly liberal angle, and has attracted some warm reviews, with Andrew O'Hehir calling it a "six-Kleenex biopic." Fourteen years on, will the Academy want to make it up to James for their infamous oversight? It's a possibility.
"The Betrayal (Nerakhoon)": I have previously expressed on these pages my admiration for the brilliant cinematographer Ellen Kuras, so I'm as interested as anyone to see this, her first outing in the director's chair. 23 years in the making, the film tells the story of a Lao immigrant family seeking asylum in post-Vietnam America, and covers considerable personal and political ground. Opening this week, reviews have been positive (David Edelstein calls it "unbearably beautiful"). Perhaps this could be Ms. Kuras' vehicle for some overdue Academy recognition.
"I.O.U.S.A.": It doesn't get much more topical than this. With the grim reality of financial crisis on everybody's minds at the moment, it's difficult to see the Academy ignoring this minutely detailed study of America's national debt. While some have accused it of scare-mongering, it probably tackles the most universally relatable issue of all the contenders. And if it essentially amounts to no more than a very elaborate PowerPoint presentation, well, neither did "An Inconvenient Truth." And that did okay.
"Glass: A Portrait of Philip in Twelve Parts": From "Buena Vista Social Club" to "Tupac: Resurrection" to "War Dance," the Academy often gravitates toward music-oriented documentaries to fill a "lighter" slot in the competition. So this study of revered Oscar-nominated composer Philip Glass from Oscar-nominated director Scott Hicks ("Shine") would appear to have the right blend of cultural appeal and insider credentials. The problem? Some rough reviews: The Village Voice went so far as to call it "stupefyingly dull." Still, let's be honest — it wouldn't be the first nominee in this category to fit that description.
"Blessed is the Match: The Life and Death of Hannah Senesh": Okay, so I don't know much more about this title than I did when I mentioned it back in August. Reviews are hard to come by too. But this much I can tell you: it's the story of the eponymous Jewish-Hungarian poet, who went on to join the only outside rescue mission for Jews during the Holocaust. I hate to sound cynical — and it may well be a wonderful film — but I think we might have our winner right here.
As you can see, then, the race offers any number of previously-travelled roads for the Academy — as well as a few new ones. Where they go from here is still anyone's guess.