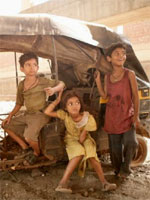 Over at Awards Daily, Sasha Stone has taken it upon herself to whittle down the Best Picture race to a brisk 11-title list, and it makes for sobering reading:
"The Curious Case of Benjamin Button"
"The Dark Knight"
"Doubt"
"Frost/Nixon"
"Gran Torino"
"Milk"
"Rachel Getting Married"
"The Reader"
"Revolutionary Road"
"Slumdog Millionaire"
"The Wrestler"
I can't be the only person looking down that list and gloomily wondering, "Is that it?" (I suppose some might argue for "Australia" still, but even the positive early reviews don't give me a great feeling.) Sadly, not only is Stone probably right, but she's still being relatively generous — I would strike "Rachel Getting Married" off the list without too much hesitation. Meanwhile, the level of hype centering on Clint Eastwood's Best Actor campaign for "Gran Torino" has me wondering whether those who have seen it don't deem it Best Picture material. (I remain among those unpersuaded by the film's trailer.)
It seems to me that "Doubt"'s chances of a Best Picture nomination depend entirely on how much award steam it gathers in the acting races, while "The Reader" remains a puzzle to me — it has the right credentials, the trailer looks solid, but why don't I sense more excitement around it? Harvey Weinstein is still struggling to regain his golden touch at the Oscars, and it remains to be seen whether that early bout of bad press over the film's release-date kerfuffle will linger.
I'm glad to see "The Wrestler" in the list, and I remain hopeful that the critics' awards might lend it some momentum beyond a dead-cert nod for Mickey Rourke, but the film is a tough sell (Jeff Wells is already wondering whether older voters might find aspects of the film offputting) and the Academy doesn't feel obliged to nominate an intimate character-oriented indie every year.
Pretty much everything on the list has pros and cons — only "Slumdog" at this point feels to me like it can't miss, yet curiously, it also feels like it can't win either. I'll say the same for "Benjamin Button" if/when it gets a pass from the critics at large — minus the "can't win" bit, of course.
It's a shaky list — to me, at least — and I'd love something to come in out of left field and dent it, but it's difficult to see that happening. I had hopes for "Happy-Go-Lucky" earlier, but the momentum just isn't there, except for Sally Hawkins' critically-lauded performance. In fact, I was hoping earlier this year that anything international might come in and upset the apple-cart in the top category, taking advantage of the widespread perception that this is a less-than-stellar year for US cinema. Only "Slumdog Millionaire," however, sort of fits that bill, and nothing else is forthcoming.
"Slumdog," together with "The Dark Knight," is also the only alternative to the stately, tasteful adult-skewing dramas hogging the buzz. (Isn't it interesting that there has been so little emphasis so far on the fantasy components of "Benjamin Button?") Overall, I can't escape the feeling that after an eccentric couple of years for the Academy, which saw them reach outside their comfort zone to honour several playfully abrasive works, it's back to business as usual.
Roll on 2009, I say.