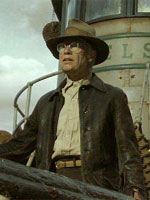 A couple of weeks ago, Dave Karger revealed that he'd seen "The Curious Case of Benjamin Button," offering a single "wow" as his response. He now feels able to expand on that slightly, though "wow" is still his general gist:
"Button" is an Oscar movie with a capital O, with jaw-dropping production values, a soaring romance, and terrific performances, particularly from supporting-actress candidate Taraji P. Henson as Benjamin's de facto mother. Even if Brad Pitt doesn't make it into the tough Best Actor race (the likes of Clint Eastwood and Leonardo DiCaprio may squeeze him out), I still can see "Button" racking up as many as 11 nominations, which could very well be the highest tally for any film this year. Once the film opens on Christmas day, I guarantee we'll all be talking about one thing: whether or not "Benjamin Button" made you sob.
Nothing that most of us weren't suspecting anyway, but nice to see it in black-and-white. I'm interested to see that he confirms the chances of presumed contender Henson, after some vague whispers elsewhere that Tilda Swinton might be one to watch in the category. And I agree that, even if his film is a frontrunner, Brad Pitt is up against it in the Best Actor race. (After all, an Oscar juggernaut needn't always pull its leading man with it — just ask Joseph Fiennes or Leonardo DiCaprio.)
To me, it looks increasingly as if all "Benjamin Button" has to do is be merely good, and it will likely score at the Oscars by sheer default in this weird season. (Incidentally, why stop at eleven nods? I count thirteen, excluding Best Actor. I'm not saying it will get them all, but surely the possibility is there.)  I'm really looking forward to Kris' thoughts once he — finally — sees the whole picture.