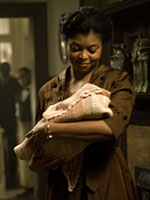 UPDATED (5:30 p.m.): Alright, now that I'm home and away from the shuffle, I can unfold some further thoughts on this.  Judging by the mood of the room — mostly guild members and industry types, a lot of press folks have decided on the 6:00 screening — the verdict is a big thumbs up.  Lots of positive thoughts dished about all around.
I spoke briefly with Kathleen Kennedy, who has seen this project go up and down, back and forth for 18 years.  We talked about the visual effects in the film and how refreshing it is that this innovative work came within such a cerebral and affecting story.  "Jurassic Park" (which she also produced) has held the industry effects crown for 15 years, and now, a new leap forward.  Though director David Fincher has said from the start that he and his crew weren't particularly sure whether they could pull it off, Kennedy took solace in her filmmaker's professionalism.
"When you bring in a director like Steven [Spielberg] or David [Fincher], you trust their instincts when it comes to that stuff," she said.  "They come along with this giant tool box and they know which tool to use for this or that."
I also chatted with Eric Roth for a good while, screenwriter-to-screenwriter type stuff.  He really did work wonders with this story, and picking his brain for the reasons behind this decision or that can be a lot of fun.  One of the odd reactions I took away from the film, however, was that the work felt strangely cold.  I wasn't sure whether I meant that in a good way or a bad way, and surely, people were crying their eyes out over this thing, so I might be in a minority.  Perhaps it's my youthful cynicism, who knows, but I thought Fincher brought an arm's length approach to the emotions in the film and I wanted Roth's reaction to that.
Of course, Roth doesn't particularly agree with my take.  Indeed, he was right in the middle of telling me how the bathroom was filled with sobbers after the screening when a beautiful young lady walked up to us and told him how much the movie had affected her.  But he took my comment in stride.
"Fincher is the kind of director that brings you right up to the point of sentiment and then brings it back," he said.  "There's something to be said for that I think."
(More, plus audio of tonight's Q&A, after the jump.)
I don't want to dig too much into my own feelings on the film yet, which are quite complicated at the moment.  I didn't fall in love like so many in the crowd did.  However, I couldn't help but sense the innovation on display, not just below the line, but in the way we tell stories.  This is a brilliant yarn, probably Roth's finest screenplay to date, in a career that has seen some fine work.
Awards wise, as I said below, I think there is no argument against Cate Blanchett being nominated for Best Actress, and again, I think she takes this award in a cake walk.  There is no actress in that category standing up and demanding this award like her work is here.  Nominations for Picture, Director, Actress, Adapted Screenplay, Art Direction, Cinematography, Film Editing, Makeup, Original Score and Visual Effects are virtually assured.  That's 10 you can take to the bank.
Meanwhile, Jacqueline West's costumes are certainly good enough (and varied enough) to demand a spot, while Taraji P. Henson really is the heart of the piece in many ways and could find herself in the running for Best Supporting Actress — no news there.  And the sound design, from interesting voice manipulation to a riveting wartime sequence, could easily slip in.
So if you're keeping count, that's 13.  Brad Pitt does not blow the role of Benjamin Button out of the water and perhaps he underplays it a bit too much.  But it is great to see him happy to get out from underneath his star persona, and with the right level of support, he could make it 14.  We're talking the year's tech giant here.
I'm including the audio of today's Q&A (with Fincher, Roth and the tech crew), moderated by The Envelope's Pete Hammond, for your listening pleasure.  I don't believe anything realy spoilery pops up throughout the 40 minutes or so.  I made sure to keep my ears open for that kind of thing, but the questions remained safely general in that way.  But those wanting to know absolutely nothing will probably want to shy away.  For the rest, enjoy:
[display_podcast]
EARLIER: "The Curious Case of Benjamin Button" finally saw its day in the sun here at the Paramount Theater on Melrose. I obviously need to let it marinate for a while, but the most compelling reaction I'm having is that Cate Blanchett is suddenly a threat to win the lead actress Oscar walking away. It might be her best work to date and she has more heavy lifting than Mr. Pitt to say the least.
The film's star, in fact, is more of a passive observer throughout, not exactly giving the powerhouse performance one may have expected.
Oh, and Alexandre Desplat's score: a haunting piece of work, something that sticks with you forever. Enchanting, really, perhaps his greatest achievement.
Director David Fincher is joined on stage right now by screenwriter Eric Roth and the principle crafts team, all of whom deserve an ovation for their work here. Check back later and I'll have the audio up for you. But to fend off the Oscar appetite, let me just say I can't imagine less than 10 nominations.