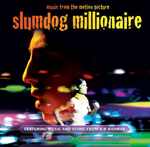 Thank God.  I was hoping Fox Searchlight would find a way to market this amazing material.  It worked well for them last year, albeit in the grungy, alt-rock vein.  But the music in "Slumdog Millionaire" is like a two-hour celebration, and it's dying to be collected.
The track listing, from MTV, has a lot of the A.R. Rahman stuff, of course (all of it exciting).  But M.I.A. pops up on there as well.  "Paper Planes" is put to great use in a montage that you wish would never end mid-film.
The final track, as expected, is "Jai Ho," the Bollywood number Searchlight is hoping will make some noise in the Best Original Song category.
Check out the full story at MTV.  Here's the track listing:
1. "O… Saya" Performed by A R Rahman & M.I.A.
2. "Riots" by A R Rahman
3. "Mausam & Escape" by A R Rahman
4. "Paper Planes" Performed by M.I.A.
5. "Paper Planes" DFA REMIX Performed by M.I.A.
6. ""Ringa Ringa" by A R Rahman featuring Alka Yagnik & Ila Arun
7. "Liquid Dance" by A R Rahman featuring Palakkad Sriram & Madhumitha
8. "Latika's Theme" by A R Rahman featuring Suzanne
9. "Aaj Ki Raat" Performed by Sonu Nigam, Mahalaxmi Lyer & Alisha Chinoi
10. "Millionaire" by A R Rahman featuring Madhumitha
11. "Gangsta Blues" by A R Rahman featuring BlaaZe & Tanvi Shah
12. "Dreams on Fire" by A R Rahman featuring Suzzanne
13. "Jai Ho" by A R Rahman featuring Sukhvinder Singh, Tanvi Shah & Mahalaxmi Iyer