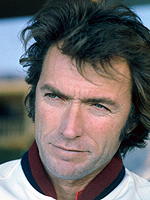 The press release, in part:
Clint Eastwood has been selected to receive the Santa Barbara International Film Festival's highest honor, The Modern Master Award, it was announced by SBIFF Executive Director Roger Durling. The Tribute will take place on Thursday, January 29, at the historic Arlington Theatre.

The Modern Master Award is the highest honor presented by SBIFF. Established in 1995, it was created to honor an individual who has enriched our culture through his/her accomplishments in the motion picture industry. Past Modern Masters recipients include Michael Douglas, Peter Jackson, Jodie Foster, Sir Anthony Hopkins, Sean Penn, Jeff Bridges, Diane Keaton, George Clooney, Will Smith, and Cate Blanchett.

Comments SBIFF Director Roger Durling, "Clint Eastwood is inarguably one of our greatest directors, one of our greatest producers and one of our greatest actors ever – to call him a Modern Master is simply an understatement."
We in the press will finally be getting a look at "Gran Torino" in a little over a week, by the way. In fact, Monday screenings of Oscar hopefuls will push the "Off the Carpet" column to Tuesdays for the next two weeks. I'll post a reminder of that on Monday.
But with this news in mind, I find myself, more and more, seeing the Best Actor race as Sean Penn vs. Clint Eastwood. Penn's performance has the power to be his second Oscar, in my view, and Eastwood's role is going to rip a few hearts to shreds. Mickey Rourke is phenomenal in "The Wrestler," but I'm beginning to sense that his award will be the nomination. A pat on the back and a "welcome home."