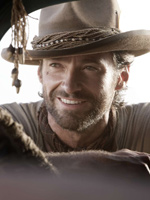 He's talking about his latest movie — Australia, Baz Luhrmann's epic romantic adventure set against the backdrop of a massive WWII-era cattle drive — and his lead role as an enigmatic figure known only as the Drover. But, come on: Doesn't the guy have, like, a real name?

"Ah," the 40-year-actor replies with the playful purr of a cat that recently dined on a tasty canary, "I can't reveal that, my friend. That is a very , very good question — no one's asked me that one, yet — but I can't reveal it. He's known as the Drover because, basically, that's his job. And it's a very fitting name, because he's an outsider, and he's known for what he does best. Which is being a drover — or, if he were an American, a cowboy. And he's just so synonymous with what he does that that's all he's ever been known as. But as for his name — well, of course, I do know. But I can't reveal what exactly will happen there."
From the latest issue of Cowboys & Indians magazine, featuring a cover story interview with Hugh Jackman.