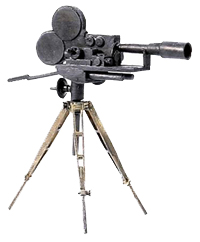 Music is one of few of the "tech" awards cited by the Academy that tends to result in passionate discussions among moviegoers, including non-cinephiles. Awarded in the Best Original Score category, the film music composer has one of the most difficult and lonely jobs in filmmaking. Almost always arriving at the end of the editing stage, and typically the most expendable element of the mixture, he or she has to fashion music appropriate to the mood and, hopefully, serve as a nice commentary for the on-screen goings-on.
AMPAS musicians tend to have their favorites, however. This is notoriously one of the most insular branches (though it has warmed up slightly in recent years). It also tends to award music that features prominently in the films. Subtle scores rarely find a home here.
A cardinal rule of this category is "never bet against John Williams." The 45-time nominee has been recognized for all but two eligible years since 1976! Having been ineligible for two consecutive years now, Williams would seem a good bet this year for "Indiana Jones and the Kingdom of the Crystal Skull." The music was notable and he was nominated for all the predecessors in the series. That having been said, for some reason I'm still not convinced of this. Perhaps that's because of the strength of other contenders.
Thomas Newman is another favorite – an eight-time nominee — though he is still awaiting this first statuette. He could very well double-dip this year with "Revolutionary Road" and "WALL-E." The former seems like it could be a big player this year, while music was absolutely pivotal in the latter. Newman was a double nominee for "Little Women" and "The Shawshank Redemption." (Newman is also credited as a songwriter on "Down to Earth" from "WALL-E," so he could even be up thrice this year!)
James Newton Howard is another frequent nominee still awaiting his first statuette. On Edward Zwick's "Defiance," he'll have to find the appropriate accompaniment for a wartime film – a favorite in this category. We'll see what sort of traction Zwick's film can garner, but working with famed violinist Jamie Bell seems to spell a nomination at the very least.
Howard Shore, on the other hand, has three statuettes – on his only three nominations. So the question arises: Does the music branch actually like him or did they just like what he did with "The Lord of the Rings?" Shore's score for "Doubt" is said to be notable, but it will be interesting to see whether he can find love from the music branch outside the world of Middle Earth.
Danny Elfman has been hit-and-miss in this category. He does have three nominations but his classic scores on films such as "Batman" and "Edward Scissorhands" have drawn blanks from the Academy. Nevertheless, "Milk" could be a major Oscar player and one of Elfman's previous nominations – "Good Will Hunting" – came from the only previous Gus Van Sant film to click with the Academy. I'd say a nomination is very possible.
Alexandre Desplat is my favorite working composer. From the gorgeous nature of "Girl With a Pearl Earring" and "Birth" to the haunting "Lust, Caution" and "The Painted Veil," as well as his Oscar-nominated work on "The Queen," Desplat knows how to create the mood for films without his work ever becoming overwhelming. On "The Curious Case of Benjamin Button," he'll have an 80-year epic to fashion with drastically different moods throughout. It seems like a magnificent opportunity for a composer. Here's hoping Desplat delivers — and the Academy can respond to a Fincher film.
After years of brilliant work on Spanish-language films, Alberto Iglesias has received two nominations in recent years, for "The Constant Gardener" and "The Kite Runner." This year, he'll be responsible for another film of the Latin culture: "Che" (or should I say two films), in addition to Stephen Daldry's "The Reader," which hopes to be a major player and also seems to be the sort of film where music could play a substantial role in setting the tone.
A true "national" in this year's race is David Hirschfelder. The Aussie was nominated for both "Shine" and "Elizabeth" (AUTHOR'S CORRECTION: I don't know how I made those indefensible mistakes) but has been M.I.A. in the Oscar race for a dozen years. With "Australia," he'll have an epic opportunity, and the composers eat that kind of thing up.
Rachel Portman, the only female composer to ever win an Oscar for Best Original Score (for "Emma") (AUTHOR'S CORRECTION: I inexplicably forgot Anne Dudley), composed "The Duchess" this year. Paramount Vantage will push this film hard in the crafts categories. I'm convinced Portman has another nomination in her – this could be it.
Finally, I'll address Hans Zimmer. After being a favorite for a dozen years – earning seven nominations and a win between "Rain Man" and "Gladiator" – he has been out in the cold for eight years now. Will "Frost/Nixon" be his vehicle back into the race? Personally, I'm skeptical. I suspect this will be deemed the Langella show with music not playing a substantial role. But one never knows how things will be perceived and Zimmer's disqualification for his work with James Newton Howard on "The Dark Knight" could have an affect. Or not.
This marks nine of ten "tech" categories examined. The tenth – Best Original Song – will be dealt with once the finalists are announced by the music branch.