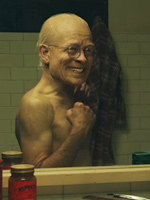 (Alright, I'm coming back to this item now that I don't have to deal with iPhone-posting.)
Tonight's screening of "The Curious Case at Benjamin Button" was supposed to be a great night for producers Kathy Kennedy and Frank Marshall (correction appended — it was a late night, apologies).  They introduced the film as a project 18 years in the making, a true labor of love, and the crowd of press, guild members and industry types sure was excited.
About a half hour into the screening, D.P. Claudio Miranda had had enough.  Apparently a color channel on the digital projector was faulty and wasn't going to be fixed any time soon.  The image looked washed out but in a stylized way, so none of us really noticed.  But it was painful for Miranda to watch.  Publicists put the call into director David Fincher, who was on his way to the theater for a post-screening Q&A, and he made the decision: pull the plug.
The audience was understandably agitated.  "Come on, it looks beautiful," one chimed in.  But they all knew Miranda would have felt terrible showing his film in that fashion (and talking to some who'd see the film already, there was a considerable difference, as well as a sound quality issue afoot).  "Don't do it," another guy said, siding with Miranda and clearly a below-the-line guy that gets it.  When your art and your craft is compromised out of the gate, it's better to cut your losses.
The good news is, I hear the same thing happened to "The Pianist" and "Dances with Wolves" for their first big industry screenings.  So maybe you do get a second chance to make a first impression.  The SAG screening went swimmingly over at the Arclight, by the way, so there is that.  But on the whole, what a bummer.  Next to "The Dark Knight," this had become my most anticipated film of the year.
All of that said, I think we liked what we saw.  And after just 30 minutes, I'm pretty sure the film will take the Oscars for Best Makeup and Best Visual Effects walking away.  Pure magic.
Saturday we'll all get a second chance.  These things happen, I guess.