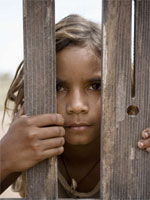 Looking across the early reviews, I think it's fair to say that "Australia" has cleared the first hurdle. They're mixed, for sure — hardly new territory for Baz Luhrmann — but there's a lot of admiration out there, even within the kvetching. There were a number of voices out there anticipating an outright disaster, but so far, it doesn't sound like one to me.
The harshest takes so far seem to have been from the Australian press, which isn't at all surprising. People are more liable to be aggravated by the romanticisation of their own culture than one foreign to them, after all. And "romanticisation" is the operative word here; as with "Moulin Rouge," one clearly has to buy into Luhrmann's fanciful stylisation to appreciate the film.
Screen International obviously did, even if they're a bit winded by it all:
Luhrmann has fearlessly gone for the biggest, lushest goal he could imagine — a romantic, old-fashioned epic to stand beside "Gone With the Wind." Though it fails to reach such Hollywood heyday heights, "Australia"'s combination of high adventure, awesome landscapes and panting passions is sure to bring out romance starved adult audiences … If the restless richness becomes somewhat indigestible before the film's considerable length is reached, that's part of the Luhrmann package. Who else would dare such excess?

Jackman is the epitome of handsome, untamed individualism: Kidman tempers haughty stridency with a delicate comic playfulness, touching in a scene with young Nullah where she teaches him, with no confidence in her own ability, to sing Over The Rainbow … (Brandon) Walters, aged 12, is perfect as the beautiful, troubled Nullah.

Technically, this is ravishing, from production and costume designs from Catherine Martin to DoP Mandy Walker's often-majestic footage. Australia is long on digital effects, mostly to good purpose, though some of the wartime Darwin harbour wide shots are wisely held for the briefest of seconds … The soundtrack is a potpourri of heightened effects and soaring musical themes.
The Hollywood Reporter is pretty much on the same page:
A shamelessly melodramatic, often eccentric spectacle with true-blue blockbuster potential … The most expensive Australian film ever made is rousing and passionate. Despite some cringe-making Harlequin Romance moments between homegrown Hollywood stars Nicole Kidman and Hugh Jackman, the 1940s-set "Australia" defies all but the most cynical not to get carried away by the force of its grandiose imagery and storytelling.
They also commend the tech credits (obviously) and the performances, suggesting Kidman gives "one of her most engaging performances," but the highest praise is reserved for Walters:
Enter the film's breakout star: 13-year-old Brandon Walters, playing young mixed-race boy Nullah. By turns cheeky and heartrending, the limpid-eyed newcomer knits the disparate threads of this sweeping epic together, single-handedly lending this showcase of amplified emotions its true heart.
The Times of London, meanwhile, offers a four-star review, saying the film is rather more complex than it appears to be:
Australia manages, against the odds, to avoid turning into one big sunburnt stereotype about Godzone country. Instead, in what turns out to be a multi-layered story it describes an Australia of the 1940s that is at once compellingly beautiful and breathtakingly cruel.

What gives the film its heart is something else entirely. This is also the story of Nullah (Brandon Walters), a mixed race Aboriginal boy left orphaned by the inhumanity of Australian law … Brandon, 13, was discovered by Lurhmann in his local swimming pool in the West Australian town of Broome and he plays Nullah with a combination of mischief and tragedy that may turn him into the real star of the film, despite – or perhaps because of – the fact that he has never acted before.
Promising stuff. My anticipation for this remains undimmed. Meanwhile, with such across-the-board raves for the youngster's work, I wonder if Walters might start creeping up a few Best Supporting Actor charts.