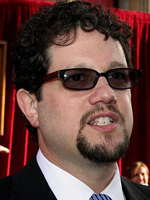 From the AMPAS press release:
Michael Giacchino will serve as the musical director for the 81st Academy Awards®, telecast producer Laurence Mark and executive producer Bill Condon announced today. Though Giacchino has composed music and conducted orchestras for both film and television, this will be his first time with the baton for the Oscar telecast and for a live broadcast.

"Michael is an extraordinarily talented and versatile musical artist," said Mark and Condon in a joint statement. "We couldn't be happier that he is game to come on board.
A highly vague quotation that, but the news is the news.  Glad to hear it.  Giacchino is a personaly fave (who was criminally ignored by the Academy for his work on "The Incredibles" in 2004).
Alright…bring on the host announcement (which should come any day).