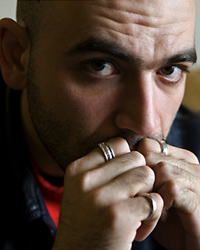 I'm pretty sure that only in Hollywood can you find publicity mobilized behind a targeted man for the purposes of securing an Oscar nomination (and, of course, prepping a film release).  But there Roberto Saviano was yesterday at the…wait, I probably shouldn't even mention the hotel should I?
Saviano has been pegged for assassination (let's not mince words) by the Neapolitan Camorra organized crime syndicate following the massive success of his book "Gomorrah," adapted for the screen this year by a swath of writers and entering the Oscar race as Italy's foreign language film submission.  Peeved at how deep Saviano's book plunges behind the veil of the wide-reaching organization, the result of "great rage" as the author describes the passion that drove him within its pages, the Camorra has reportedly declared they want Saviano dead by Christmas.
A highly sincere security guy/bodyguard was my first impression, me waving my iPhone as the only device concealed on my person — I swear.  Moving into the Spartan hotel room, Saviano was seated in the most unassuming manner, feet crossed in front like a child passing the time.  His bald head and dark eyebrows set off a striking complexion, and he certainly looks as young as his 29 years.  Which makes the achievement of "Gomorrah," written in a style compared to the "non-faction" of Truman Capote, all the more impressive.
The film adaptation, spear-headed by Saviano and director Matteo Garrone, is an absolute success, managing to steer clear of any modern cliches its multiple narrative structure might have allowed.  It took Cannes by storm over the summer, landed nominations across the board at the European Film Awards and has already been bandied about in this space as a potential Oscar spoiler in more than just the anticipated Best Foreign Language Film category.
And now, those who can make that kind of thing happen are aiming to do just that.  "Gomorrah," it seems, won't be settling for the obligatory tip of the hat in one ghettoized field, nor should it.  And if anything, it ought to be a testament to Saviano's courage (the guy is in hiding for Christ's sake) if the film manages to be seen and awarded by more than the already fickle and questionable foreign language film committee.
I spoke with Saviano, through a translator, for about a half hour.  Rather than piece together an interview article I thought I'd let the exchange speak for itself.  I didn't realize how much of an honor it was to meet the guy until maybe half-way through, and when I tell him I think he's a hero, I assure you I mean it.  Have a listen:
[display_podcast]