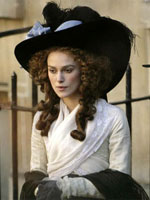 I have a bit of a love-hate relationship with the BAFTA Awards. On the one hand, they can be far more daring and playful in their choices than the American Academy — this is an organisation, after all, that has handed their Best Film award to such enduring works as "The Purple Rose of Cairo," "GoodFellas" and "Lacombe, Lucien," while nominating the Oscar-snubbed likes of "Eternal Sunshine of the Spotless Mind" and "The Usual Suspects."
Their technical awards are invariably more imaginatively awarded, too — take a look at their Best Film Editing category, for example, which in recent years has crowned "Eternal Sunshine," "City of God" and "Mulholland Drive" as winners. And they can often be counted upon for gratifying upsets, as when Pedro Almodovar pushed past Sam Mendes for Best Director in 2000, or when "Trainspotting" blindsided "Sense and Sensibility" in the 1996 screenwriting race.
For an awards show that fancies itself world-class, however, BAFTA can be infuriatingly parochial in their selections, stubbornly rewarding their own in the face of bigger, bolder competition. I doubt most of the voters could say with a straight face that "Four Weddings and a Funeral" was the very best film of 1994, nor "The Full Monty" of 1997, but they cleaned up nonetheless.
For the last two years running, that kind of provincialism has ruled the voting, with this year's awards looking particularly suspect. I think "Atonement" is a fine film, but handing it their top award seemed tokenistic at best, not least when the only other gong it took was for Best Art Direction.
It's a trend that Variety thinks could continue this year. In an article previewing the British contenders in the acting categories, they point out that Limeys have taken 16 acting BAFTAs in the last decade, compared to seven Oscars. Needless to say, they are frequently justified. It's fair to say that this year, several British names will be cropping up in awards lists on either side of the Atlantic, and deservedly so — particularly in the Best Actress category, where thesps like Kristin Scott Thomas, Sally Hawkins and the ubiquitous Kate Winslet are all likely to figure.
But that group of sixteen has its share of suspect winners too — Bill Nighy in "Love, Actually," say, or Thandie Newton in "Crash" — who never got much awards consideration anywhere else, but rode a wave of sentimental hometown favouritism to victory on BAFTA night. And it's Variety's list of potential contenders in this bracket that makes for worrying (and sometimes all-too-plausible) reading.
I'd like to think that the reviews would deter even BAFTA from citing the feeble likes of Newton (again) for "W." or Tom Wilkinson for "RocknRolla," as the article suggests they might. But I certainly wouldn't put them above throwing in a nomination for much-adored national treasure Julie Walters in UK uber-hit "Mamma Mia!" In fact, that one seems almost inevitable, much as the idea dismays me. Variety also anticipates multiple acting nods for "The Duchess," and they may well be right, even if I think none of the cast (least of all the robotic Hayley Atwell) should get within a mile of the gold.
Of course, there is a potential upside to the favouritism. A small, challenging British film like "Hunger" may struggle to get the make the headway it deserves with Oscar voters, but stands a greater chance of BAFTA recognition, particularly for lead actor Michael Fassbender.
I wouldn't bet the house on it, though, as BAFTA has a curious double standard when it comes to acknowledging their own product. Last year, both Anton Corbijn's "Control" and Shane Meadows' "This Is England" represented landmark achievements in British cinema, praised to the skies by critics both here and abroad. (The latter was my favourite film of 2007.) Shoo-ins for BAFTA glory, right? Wrong. Both were resigned to the Best British Film ghetto (a category which routinely makes more interesting choices than the main field), scoring a paltry two nods between them in the main categories. Meadows' film took the British Film award, handily beating "Atonement" in the process, but it deserved better.
In other words, while they are happy to garland palatable, comparatively middlebrow British cinema, BAFTA still frequently shies away from anything, local or otherwise, that pushes the envelope. Perhaps they aren't so very different from the Oscars after all.