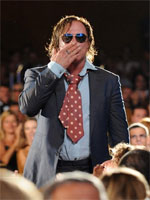 Kind of an in-between week, this. Here's how it went down:
• In probably the most discussed Oscar news of the week, "The Dark Knight" was dodgily ruled ineligible in the Best Original Score category.
• On a happier note, we sat down with surefire Best Actor nominee Mickey Rourke.
• A shortlist of 14 films was announced for the Animated Feature race — not that it's a "race" at all.
• "Australia" was revealed to a besotted Oprah… but is it really the Oscar-bait some people think it is?
• Ahead of "Slumdog Millionaire"'s Stateside opening, we considered the contributions of DP Anthony Dod Mantle and composer A.R. Rahman.
• Kris was appreciative of Edward Zwick's "Defiance" … even if several critics weren't.
• The dynamic Italian duo of "Gomorrah" and "Il Divo" led the nominations for the European Film Awards.
• "Gomorrah," meanwhile, has designs on more than just the Foreign Film category at the Oscars.
• Tech Support showcased the frequently surprising Best Makeup category.
• Entertainment Weekly named Robert Downey Jr. their Entertainer of the Year, which Richard Jenkins among the also-rans.
• We were charmed by "Last Chance Harvey," a low-flying contender in the acting categories.
• And finally, in another biopic-heavy season, we counted down the all-time best examples of the genre.