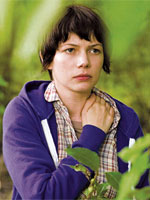 Kim Voynar has a sharp piece up at MCN in which she decries the absence of female-focused (and female-directed) films from the top line of Oscar contenders.
Of particular irritation to her is that femme-driven films like "Rachel Getting Married," "Happy-Go-Lucky," "I've Loved You So Long," "Frozen River" and "Wendy and Lucy" — the latter two directed by women too — are garnering fawning reviews and plenty of awards attention for their stars, yet for the most part are being written off as Best Picture contenders. The Oscar pundits, she believes, aren't helping either:
Twenty-three films on the Gurus of Gold Best Picture chart and of those, not a single damned one is directed by a woman. That's just sad — both generally speaking, and because I'm rather shocked that Frozen River, at least, hasn't manbaged to garner even a single vote in its favor. The only femme-helmed film even showing up on the Gurus' Best Pic chart is … The Secret Life of Bees? Seriously? No offense to that film, but Dakota and the Bees above Frozen River? I honestly cannot imagine an objective version of reality where the former is a better film artistically speaking. And don't get me started on the mostly dreadful Body of Lies being anywhere on that list when Frozen River is not. Oy.
She has a point, even if her argument is (I suspect consciously) on the naive side. The truth is that tiny, discomfiting films like "Frozen River" and "Wendy and Lucy" would likely never be deemed Best Picture contenders, no matter who directed them — though I wish that weren't so, particularly in the latter film's case.
Voynar acknowledges this, but thinks the real problem lies, as ever, with thebalance of power in Hollywood:
We'll continue to have predominantly men in decision-making positions; those men will continue to greenlight femme-driven films, for the most part, only when it's a "safe" bet of an existing literary property with a known fan base to drive female audiences to see them, and will continue to put the bulk of studio dollars behind films aimed primarily at men … They'll put their Oscar chances where both the dollars and the greatest likelihood of success lie, and it's going to take more than decent box office from a few femme films to effect any lasting change.
It's an intelligent argument, and you can read the rest here. The question it leaves me asking, trivial as it sounds, is: in 2004, had Alexander Payne made "Sideways" about two women on a Napa Valley jaunt, and released it to similar critical adulation, what kind of figure would it have cut in awards season? Not much of one, I suspect.