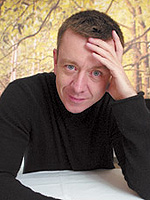 The day-to-day deal signings and rumored particulars that end up in the trades are generally no interest to me.  I like to wait until we get a little further down the road, but this project really caught my attention.
Peter Morgan is sure to leap further toward the head of the writing class this year with "Frost/Nixon," so his involvement in a DreamWorks project with Steven Spielberg and Clint Eastwood above the line is exciting to say the least.  (Though having said that, I never can shake the opinion of one Oscar-nominated writer/director last year who told me of Morgan's play: "If I knew all I had to do to make a successful play was have characters front and center spouting off exposition, I'd have been writing plays a long time ago."  I liked the play, but I find it difficult to argue with that criticism.)
Anyway, enough catty asides.  Here's the news from Variety on "Hereafter":
Clint Eastwood is in talks to direct the supernatural thriller "Hereafter" for DreamWorks.

Company, led by principals Steven Spielberg and Stacey Snider, picked up the spec penned by "Frost/Nixon" scribe Peter Morgan in March when it was still a part of Paramount Pictures. DreamWorks held onto the project as part of its separation pact with the Melrose studio and has been wooing Eastwood to board the project for months.

Plot details are being kept under wraps, but it is described as in the vein of "The Sixth Sense."

Kathleen Kennedy is producing.