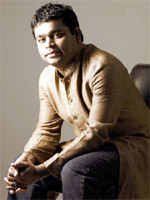 I have no idea what the Academy's fussy music branch will make of it, but A.R. Rahman's busy, boisterous score for "Slumdog Millionaire" is one of my favourite efforts in the field this year. Fusing contemporary Indian pop with more traditional Bollywood motifs and flashes of electronica, it's an achievement as limber and witty as the film it accompanies.
Rahman has long been revered, both as a composer and a pop star, in his native India, but he's only recently begun testing Western waters. I appreciated his elaborately heightened contributions to last year's "Elizabeth: The Golden Age" more than most, but "Slumdog" should really make his name in this part of the world.
There's a brief but insightful interview with Rahman over at Vulture, in which he discusses the considerable differences between working for Bollywood and working for Boyle — a difference over over 100 musical cues, for starters. In the light of a discussion going on a recent comments thread about how a score should operate within a film, I thought this statement rather interesting:
What's good about [Boyle] is that he likes how Indian films mix music. You push it and it comes out. We wanted it edgy, upfront. He said every piece of music was going to be a piece by itself. Normally some directors suppress music — they always want the effects to be loud and the music to be softer. Danny wanted it loud.
He also talks about working with the brilliant M.I.A. on an original track for the film, called "O… Saya":
We met before but never worked before. M.I.A., she's a real powerhouse. Somebody played me her CD and I thought, Who's this girl? She came here and knew all my work, had followed my work for ages. I said "Cut the crap," this "my idol" crap. You have to teach me. We started working in India, then we e-mailed the track back and forth. She did the vocals in England. I did the rest in India.
"O… Saya" is vividly used early on in the film, and I haven't been able to shake the hook from my head for a fortnight. It's certainly one of the most exciting original songs from a film I've heard in 2008 — which I don't mean as the faint praise that it sounds like.
I was hoping I could post it here, but like much of the film's music, it's proving elusive (to me, at least) on the web. To make up for it, here's the scene which so superbly incorporates "Paper Planes." If you haven't seen the film yet, I'd recommend you wait to get the full impact of it in the cinema, but for the already-exposed (or the impatient), enjoy: