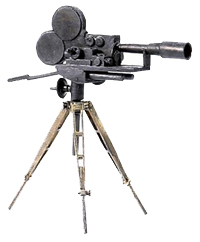 "Norbit." "Click." "The Time Machine." "Life." What do all of these dreadful films have in common? They are Oscar nominees because of the category of Best Makeup!
I will give this branch kudos for often willing to think outside the box but they still manage to be quite bizarre in their choice of nominees more often than not.
All things considered, it's is a difficult category to predict. While the three nominees are chosen from seven pre-announced finalists, the "bake-off" to seven often has shockers in store. Films that would appear slam-dunks are ignored while movies no one was considering end up short-listed.
All that said, I'm still going to do my best to handicap it!
One film that would logically seem to be leading for a nod is David Fincher's "The Curious Case of Benjamin Button." As I have said before, I suspect this film could be headed to across-the-board nominations in the tech categories. Aging both Brad Pitt and Cate Blanchett over 80 years (albeit it different directions) will be enormously visual and integral to the plot. My only concern would be if there is use of visual effects to "brush up" the makeup work. This branch does not like having their territory intruded upon by CGI.
Fincher's movie is no lock. Nothing ever can be in this category. But I do believe it is out in front by a significant margin at this point, especially with veteran Greg Cannom in charge. Beyond that, I have no idea.
Many would argue Christopher Nolan's "The Dark Knight" will emerge here for the work on Heath Ledger (designed by the actor himself no less). While the makeup was doubtless iconic, and it is possible love for the film could push it into this category, at the end of the day it was likely not very difficult to administer or even design. Moreover, the branch may be offended by the use of visual effects to create Two-Face.
"The Chronicles of Narnia: Prince Caspian" managed to one-up its predecessor in the makeup department with even more prosthetics and extravagant hairstyling. "The Lion, the Witch and the Wardrobe" managed to win here in 2005, so if there is a place the sequel can score, I would say this is it. The problem is that no one seems to like or remember the film. But that does not necessarily matter in this category.
The other summer sequel with very prominent makeup was "Hellboy II: The Golden Army." But unlike "Narnia," its predecessor (incredibly) failed to even be nominated here. That suggests to me that the branch is not enamored by this comic adaptation. That said, Guillermo Del Toro has become hugely respected in the years since "Pan's Labyrinth," which (deservedly) won this award in 2006. So perhaps they are willing to give this one another look?
One of this category's favorite attributes is aging. In Charlie Kaufman's "Synecdoche, New York," numerous characters are affected by aging effects, all of them quite believable and extraordinary. While the film is divisive (I fully expect it to make both "best of" and "worst of" lists come the end of the year), that may not matter with this branch.
"The Reader" also puts some aging on display, albeit not to the same extent. Unlike Kaufman's film, however, Daldry's could (and this is a big could) become an all-around player. A nomination strikes me as a possibility if the behind-the-scenes infighting does not affect its reception in the Hollywood community.
"Australia" remains unseen a couple of weeks before release. A very interesting situation to be in. I honestly don't know what to make of this. I suspect it's going to be either a massive hit and huge Oscar player – or a huge disappointment. But in either situation, I feel the crafts aspects could come into play. I find it difficult to believe a film set in wartime in the Outback will not feature at least SOME makeup work of note, but we'll have to wait and see.
Transformations into famous people are often awarded here as well. So I find it difficult to rule out "Frost/Nixon" and "W," where actors Frank Langella and Josh Brolin morph into two of our most controversial ex-presidents. But the latter seems to have already been forgotten in the midst of Obama-mania while the former remains reliant on one character where the makeup is not that drastic.
"Che" is yet another example of trying to turn a famous actor into a famous person. But it's two-part release and polarization will likely be the death of it at the Oscars, in my opinion.
And finally we'll come to the controversial makeup film of the year: "Tropic Thunder." Robert Downey Jr.'s blackface actually turned out to be quite respected as a hilarious stunt but was also 100% convincing. If Downey gets into the Oscar race, as he should, he could bring attention this way. The film also featured numerous war injuries and blood, which are often nominated here.
But do you know what I ultimately think? A film that I have not even mentioned here will be nominated. Don't ask me what it'll be – but it'll show up. That's just the way this category shakes out year after year.