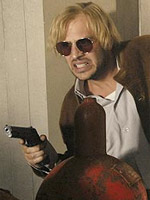 With a higher international profile than most of the other submissions in the category, Germany's controversial "The Baader Meinhof Complex" would appear to be headed for a Best Foreign Language Film nomination — and there is talk that film has screened well for Academy members.
However, with nominees in this category generally receiving so much less public attention than in others, critical reception can be an important factor in the voting — and it's in that department that things aren't quite going to plan for Uli Edel's film. Trade paper reviews have been lukewarm, with Variety deeming it "long and humdrum," and Screen International declaring that it "emotionally flatlines, even as it fascinates." (For my part, I thought it engrossing enough but dramatically opaque.)
Now, on the eve of the film's UK release, it has been even more harshly dismissed by critics here. In a severe one-star review, The Independent's Anthony Quinn writes:
How far was Germany's recent Nazi past to blame for the rise of the Red Army Faction? How did a small group of radical left-wing students of the 1960s turn into one of the most feared terrorist units of the 1970s? What was the nature of the disputes that eventually split apart the RAF, and what resonance does their legacy have today? Any one of these questions might have been a useful co-ordinate by which to plot a narrative … But it turns out he hasn't answered any of them. His approach has simply been to cram everything he knows about the Baader Meinhof years into a running time of two and a half hours. It is really the most unhelpful and unenlightening film on the subject you could possibly imagine.
The Guardian's Peter Bradshaw isn't impressed either:
The resulting film is a sprawling, episodic and interminable 70s period drama, ploddingly comparable to Steven Spielberg's Munich … That "Complex" in the title appears to promise an analysis of both the structure of the terrorist group and its psychology. But it delivers on neither front. Both singly and in terms of their partnership, Baader and Meinhof are treated superficially and incuriously … In place of a dramatic arc, Edel's movie offers a long, drawn-out anti-climax: a shapeless rag-bag of violent events.
Wendy Ide at The Times joins the chorus, finding it overlong and thoroughly unaffecting:
There is a real problem with a film that, although thoroughly researched and directed with integrity, struggles to move the audience … The energy-sapping running time and the way that revolutionary zeal inexorably gives way to a sullen disillusionment makes this a long, relentless slog of a movie.
However, Sukhdev Sandhu for The Telegraph, goes against the grain, finding it "vivid" and "timely":
The film, understandably given the shift from life on the run to incarceration and solitary confinement, flags a little in the last 30 minutes … But I was pleasantly surprised by how much information and context it did succeed in packing in.
Perhaps the film will find a warmer critical reception across the ocean — though last I heard, it hasn't secured a US distributor yet. If it doesn't, however, the film could face an uphill battle at the Oscars. There are more critically acclaimed films in contention; there are also far warmer ones.