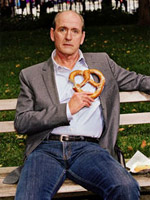 It's interesting to note that, in addition to citations for the respective casts of "The Dark Knight" and "Sex and the City: The Movie," only five film actors made EW's recently unveiled list of the 25 Entertainers of the Year. (Six if you count their #2 pick, Tina Fey — which I don't.)
Perhaps it chimes in with the widespread feeling that 2008 isn't a vintage year for cinema, perhaps the worlds of TV and music simply had more to offer, or perhaps I'm simply over-analysing. It's curious to see arguably the year's two most overexposed stars, Angelina Jolie and Brad Pitt, absent from the list — make of that what you will.
Nevertheless, the list was topped by a movie star: Robert Downey, Jr. Even with the bumping of "The Soloist" from the 2008 slate, it's difficult to deny what a great year he's had — between "Iron Man" and "Tropic Thunder," he really found his popular touch, and even the most elitist critic had a kind word for him. Whether or not that unlikely Oscar campaign for the latter film takes flight, he has, as EW aptly puts it, "pulled off one of the smartest second acts in showbiz history."
Other names present on the list include Meryl Streep, James Franco and Elizabeth Banks — but the most surprising and delightful inclusion is Richard Jenkins. I can't imagine that the humble 61 year-old character actor ever thought he'd appear on a list alongside the likes of Leona Lewis and The Jonas Brothers, but good for him. It's an appropriate recognition for a year that saw him supplement a career performance in "The Visitor" with cunning appearances in two mainstream crowdpleasers. Here's EW's take:
Richard Jenkins has had a colorful career, but he never seemed like an actor who'd get interrupted during dinner. After growing up in De Kalb, Ill., he became one of those ubiquitous character actors whom only a few know by name: the gay federal agent in Flirting With Disaster, the psychiatrist in There's Something About Mary, the deceased patriarch in HBO's Six Feet Under, and on and on. This year, Jenkins played Will Ferrell's stepdad in Step Brothers and a gym manager in Burn After Reading. Though Jenkins has worked with just about every big-name filmmaker and actor in Hollywood, The Visitor writer-director Tom McCarthy was still considered brave for elevating him to leading man. "There was never a question about whether he could do this," he says. "Richard has proven himself.'
Indeed he has. That Best Actor nomination for "The Visitor" looks more and more likely to me.