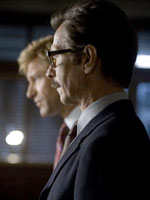 UPDATE (8:14 p.m.): Now comes this story from Jon Burlingame at Variety (always well-informed on this stuff), spelling out the particulars:
Sources inside the committee said that the big issue was the fact that five names were listed as composers on the music cue sheet, the official studio document that specifies every piece of music (along with its duration and copyright owner) in the film.

Zimmer said, in an interview with Variety prior to this week's Acad action, that listing multiple names on the cue sheet was a way of financially rewarding parts of the music team who helped make the overall work successful. (Performing-rights societies like ASCAP and BMI use the cue sheet to distribute royalties to composers.)

Zimmer, Howard and the other three individuals — music editor Alex Gibson, ambient music designer Mel Wesson and composer Lorne Balfe — reportedly signed an affidavit stating that the score was primarily the work of Zimmer and Howard.

That apparently wasn't enough for the majority of the committee, which was also supplied with documentation indicating that more than 60%, but less than 70%, of the score was credited to Zimmer and Howard.
What a load of horseshit, no?
EARLIER: Not that this is a surprise, but I'm hearing that because there were too many names listed on the cue sheet for "The Dark Knight" score, the work has been disqualified.  The music branch apparently spent a considerable amount of time discussing the issue and likely due to their labyrinthine rules, which have been bandied about considerably in other outlets.
It's a shame, seeing as I thought James Newton Howard and Hans Zimmer really added considerably to the flavor of their original work in "Batman Begins" (also disqualified in 2005).  But the bottom line here is, someone needs to take a sandblaster to this branch's rulebook and do away with the subjectivity that can really eat away at some fine work.
More as it comes…