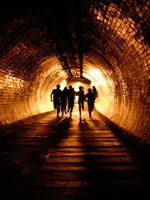 I ran across this /Film post today regarding a sequel to "28 Weeks Later" (which, to my mind, was a very successful sequel to the bloody awesome "28 Days Later").  I don't generally get into the web-journo thing of clawing over ourselves to convey nothing "scoops" from this junket or that, but seeing as the /Film post (stemming originally from scifi.com) brought such painfully vague information to light (though I guess the possibility of Danny Boyle directing is interesting), I figured I'd add my bit of earth-shattering information, taken from my interview with Boyle last week:
Well there is a plan.  A little idea.  Well it's a big idea, and it's a bit different so it won't be more of the same.  Not really.
Feel free to giggle at the absurdity of it all.  I didn't even bother following it up because he clearly wanted it somewhat muted, but I can't say I'm not curious about what "a bit different" means.  I love this franchise, and the closing moments of "28 Weeks Later" were friggin' awesome, so bring this one on any day.