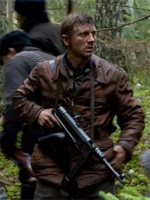 Ed Zwick may just be one of those directors who will never be in critics' good graces: a fine technical craftsman and a no-nonsense storyteller, even his best films remain as resolutely unfashionable in execution as they are noble in intention. Nothing wrong with that, of course — I'm no real fan, but films like "Legends of the Fall," "The Last Samurai" and "Blood Diamond" entertained a lot of moviegoers, even as critics offered a collective shrug.
Now, early reviews suggest that "Defiance" will continue that pattern. Though Kris had positive words for the film, the trade papers are significantly harsher, tossing out phrases like "dramatically flat" and "an overall lack of creative spark."
Todd McCarthy's review praises the performances (particularly Liev Schreiber's) and tech contributions, but overall, he is left unmoved:
A potentially exceptional story is told in a flatly unexceptional manner… Zwick's version of the grim but inspirational events becomes more conventional as it goes, topped by a climax straight out of countless war pics and Westerns.

It all becomes pretty standard-issue stuff, filled with noble and tragic heroism, familiar battle images and last-second rescues. None of the suffering, sacrifices, anxieties or tests of heart and soul are rendered with any special dimension or heightened force, nor depicted with anything near the staggering, hallucinatory impact of the two great Russian films to have depicted events in wartime Belorussia, Larisa Shepitko's 1977 "The Ascent" and her husband Elem Klimov's 1985 "Come and See."
Kirk Honeycutt's take is perhaps moderately more charitable, but the sentiments are similar:
(While it) certainly is a story that needed to be told, one wishes it could have been told more dynamically… Although Zwick and co-writer Clay Frohman have tailored a thoughtful script that covers all the inherent theological and philosophical angles and archetypes (making it an ideal "bearing witness" companion piece to Zwick's "Glory"), the production cries out for a more compelling approach given its limited exteriors.
Finally, Tim Grierson for Screen Daily completes the trio of "meh" verdicts, and is less forgiving of the performances and tech credits than the other two:
In trying to add a new chapter to the long history of films made about the Holocaust, "Defiance" can barely move a dramatic muscle without bumping into another, better movie that covers some of the same ground… Daniel Craig and Liev Schreiber have a tough time with the material, not helped by the fact that Craig's naturally brooding magnetism clashes with the reserve of his indecisive character, while Schreiber is too cerebral a performer to portray a one-dimensional bear of a man who rarely thinks before acting.

Zwick's films have a reputation for impressive spectacle that can overwhelm their earnest, slightly cornball narratives, but Defiance is so sober-minded that even its few action sequences fail to add much excitement to the proceedings.
I'm not really surprised by this: fairly or not, the trailer didn't build much buzz, and the film's schedule bump into January wasn't exactly a vote of confidence either. I still hope to enjoy the film in the way that Kris did, but I think we can safely remove "Defiance" from Oscar consideration — except, of course, in the technical categories where Zwick's films tend to score. (Simply going on hearsay, I'd guess James Newton Howard's score looks like its best bet.) It was ever thus.