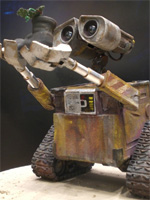 The Academy has revealed the 14-strong shortlist of films competing in the Best Animated Feature category, and, well, it doesn't make for very inspiring reading. What's most significant about the news is that it means the nominees will, as usual, be limited to three films; to accommodate five, more than 15 shortlisted titles are required. That has only happened once before, in 2002. Here's the list:
"Bolt"; "Delgo"; "Dr. Seuss' Horton Hears a Who!"; "Dragon Hunters"; "Fly Me to the Moon"; "Igor"; "Kung Fu Panda"; "Madagascar: Escape 2 Africa"; "$9.99"; "The Sky Crawlers"; "Sword of the Stranger"; "The Tale of Despereaux"; "WALL-E"; "Waltz With Bashir"
It's a nail-biting race. "Madagascar: Escape 2 Africa" may appear to be the locked-in frontrunner, but "Bolt" has Academy veteran Miley Cyrus powering its chances, and watch out for the lovely Australian stop-motion work "$9.99," which is creeping up on the outside lane, and could take it all…
Okay, okay, forgive me for trying to make it sound a little more exciting. (I am pleased to see "$9.99" in there, though.) I think we can safely eliminate most of the titles on the list from consideration — even if the voters have in the past nominated the odd head-scratching dud. ("Jimmy Neutron: Boy Genius," anyone?) Anyway, We all know "WALL-E" is winning this by a country mile, so the only thing left to ponder is which two films it will beat.
"Waltz With Bashir" appears to be the next likeliest prospect, though the Academy has a hit-and-miss record of acknowledging non-family-oriented animation in this category. Ari Folman's much-admired work looks to be on a similar course to "Persepolis" last year, but I'd feel more certain of its chances if it were half the film "Persepolis" is. (From where I stand, it's intriguing, but not a home run.) I still think it's in.
I'm guessing the last slot is a toss-up between "Kung Fu Panda" and "The Tale of Despereaux," both seemingly the kind of safe, pretty family efforts featuring cute anthropomorphic critters that usually scrape into the category. I'll go with "Despereaux," if only because I was mildly charmed by the trailer.
Best Animated Feature remains, for me, the least interesting Oscar category — principally, because, in its seven years of existence, there has only once been a genuine race for the award. (I've personally never failed to call this category, which isn't a good sign.) There's almost always a crowd-pleasing juggernaut that crushes the competition, and deserving of recognition as they often are, I can't help wondering if the category might be better off existing as a Special Achievement Award.
Anyway, congratulations, "WALL-E." Please collect your Oscar, do not pass go, and so on.