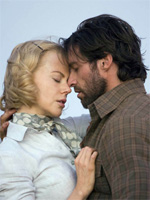 I haven't hidden the fact that I'm in the tank for Baz Luhrmann's "Australia," or at least I hope to be — when we're eventually allowed to see it. It is, bar none, my personal most-anticipated title of the next two months, sink or swim.
I am, however, beginning to get nervous about its Oscar chances, as troublesome buzz circulates about its down-to-the-wire editing and last-minute narrative changes. The Academy tends to shy away from anything that might be perceived — deservedly or not — as a grand folly, preferring works that play the publicity game a little safer.
A part of me has thought for some time that, should "Australia" overcome the naysayers, it could be welcomed by voters as a return to the more "traditional" model of Best Picture winner — sweeping, romantic, period-set and controversy-free — after four consecutive years of honouring bleak, un-pretty and (relatively) modern-day works. It's argument that can also be made in favour of another unseen film widely presumed to be the one to beat: "The Curious Case of Benjamin Button."
However, over at The Film Experience, Nat Rogers makes an excellent point to the contrary, suggesting that the romantic epic is less of an Oscar 'gimme' genre than we tend to presume:
My initial instinct, minus any research, was that Oscar loves to be romanced by beautiful people in period finery, their love story intertwined with famed world events. But is that really true? Perhaps it's just that early Oscar champion "Gone With the Wind" casts a really long shadow …

Oscar isn't always in the mood for retro loving. But even when they aren't, the films can quite often emerge with Best Actress and Costume Design nominations and a stray nomination of some other sort. "Australia"'s chances in a wide array of categories clearly hinge on how deep audiences fall into reciprocal love with Kidman's aristocrat and Jackman's cattle driver.
It's a smart, entertaining piece, and you can read the rest here. Rogers supplements his argument with a list of romantic epics that were at least nominated for Best Picture, and even with a number of iffy inclusions like "My Fair Lady" (hmm) and "Bonnie and Clyde" (nice thought, but no), it's a surprisingly short one. Of course, the Academy swooned to the genre for three consecutive years a decade ago, feting "The English Patient," "Titanic" and (stretching a little here) "Shakespeare in Love," but since then, the strike rate has been markedly lower.
"Atonement" may have (barely) scored a nod earlier this year, but it seemed a rather grudging one. Meanwhile, 2003's frozen-out "Cold Mountain" stands as the clearest cautionary tale for a film like "Australia." A beautifully mounted, starrily cast epic from with weightily prestigious source material and an Oscar-winning director at the helm, that film's Academy credentials seemed almost too impeccable, and voters possibly resented the widespread assumption that this was catnip to them.
Not so much a bad film (I think it deserved a place over at least two of the nominees that year) as a deeply unfashionable one, the exclusion of "Cold Mountain" from the race could be read as one indication of an Academy entering a new, less romantic phase. With what appears to be a playfully kitsch aesthetic, "Australia"'s evident auteur-led eccentricity might put it at more of an advantage with the Academy these days, but it remains a risky proposition.
I used the word "phase" earlier, and it's a important one when discussing the Academy — it's hard to accurately define true Oscar-bait when the voters' mood swings so violently over the years. The 60's for the Academy was an era of overstuffed spectacle (frequently musical, at that), before their daring choice "Midnight Cowboy" ushered in a considerably more intimate, downbeat decade of winners — not entirely unlike what we've been seeing in recent years.
They tired of that phase then, just as I'm sure they will now. Whether it happens this year or a little further down the line is something I'm interested to see. No doubt the powers behind "Australia" and "Benjamin Button" are too.