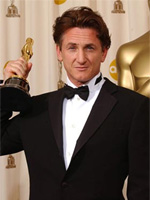 Over at his increasingly active OscarWatch blog, Dave Karger is bringing up the age-old issue of whether or not the Oscars are a popularity contest. The post is in part a response to Tom O'Neil and Pete Hammond's dismantling of Karger's predictions in the Best Actor race, where he declared the frontrunners to be Sean Penn, Mickey Rourke and Frank Langella.
Seems sound enough to me — the first two in particular — but O'Neil and Hammond seem to feel that personal likeability issues might get in the way for all three actors. Karger acknowledges their point, but ultimately feels they might be off-base:
I see where they're coming from: An awards campaign truly is similar to a political campaign at times, and one's deportment certainly comes into play. I think it's fair to say that Marion Cotillard's tirelessness and charm in supporting La Vie en Rose didn't hurt in her recent eventual Best Actress victory over Julie Christie. And who knows how many nominations Russell Crowe has squandered over the years by shoving awards-show producers or chucking hotel telephones. But then again, I wonder if Penn's win for Mystic River (after he didn't even bother to show up for the Golden Globes) proves that conduct doesn't matter that much.
I have to agree. Yes, the Academy can play favourites — not least within the actors' branch — but popularity and likeability aren't always one and the same. Otherwise, someone as universally liked as Kate Winslet would have won approximately four Oscars by now. (Kate Hepburn, meanwhile, might have won substantially fewer.)
However much O'Neil argues (occasionally ludicrously) that Penn has somehow crossed the Academy, the fact remains that he's firmly in the club. (I personally don't think the underachievement of "Into the Wild" earlier this year reveals any clear anti-Penn sentiments in the actors' branch.)
Penn isn't cuddly, but he doesn't have to be when he has the level of professional respect he commands among his peers. He has an Oscar (and four nominations, including ones for vehicles as weak as "I Am Sam" or as low-key as "Sweet and Lowdown") not because he plays any kind of industry game, but because he's one of the best in the business. Sometimes things are that simple. If he's as great as people (including Kris) are saying he is in "Milk," I don't see how he can fail to be nominated.
Something similar goes for Rourke — a chequered personal history and a smattering of industry enemies can't compete with the scale of his achievement in "The Wrestler." With the weight of the right campaign behind them, certain performances are too astonishing to ignore — which Rourke will no doubt discover on nomination morning. Sometimes it's the work that makes you popular.