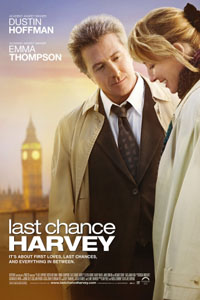 Remember "Falling in Love?" I wouldn't blame you if you don't. A modest join-the-dots 1984 romantic drama charting the will-they-won't-they courtship between two married New York commuters, it should never have gone beyond the dimensions of a TV screen…
…but for the fact that the two commuters happened to be played by Robert De Niro and Meryl Streep. So sensitively crafted were their performances, and so effortless and infectious their chemistry, that they alone made the film worthwhile.
Watching "Last Chance Harvey," the sophomore feature from British writer-director Joel Hopkins, I couldn't help but be reminded of "Falling in Love." The comparison isn't entirely fair — "Harvey" is a bit smarter and more acutely observed — but both films are essentially slender, undemanding constructions designed principally to showcase two great actors riffing off each other.
In the case of "Harvey," the actors in question are the appealing September-December duo of Dustin Hoffman and Emma Thompson, and the pairing proves immediately irresistible.
The contrivances of Hopkins' screenplay and his prosaic filmmaking approach are of little consequence once it emerges that this is a star vehicle, plain and simple. On those terms, it's a bull's-eye, one that is bound to register strongly with an audience starved of relationship stories concerning anyone over the age of 40.
Following their spring release "The Visitor," a similarly low-key, mature-audience-skewing success, new outfit Overture Films is cunningly slipping "Last Chance Harvey" into theaters in late December, in the hope of awards success for the stars. Given the strength of the performances and the film's winning charm, it's a move that could well pay off.
Should the film go the comedy/musical route at the Golden Globes, Hoffman and Thompson will likely be rewarded with nominations, while Hoffman is a dark horse to watch in the Best Actor field at the Oscars; this is his most affecting, layered portrayal in a long while.
The film's narrative could easily be scrawled on the back of a postcard. Hoffman plays Harvey Shine, a jingle composer at the butt-end of his career, who reluctantly jets over to London for the wedding of his estranged daughter (the luminous Liane Baliban), only to find himself all but frozen out of the proceedings.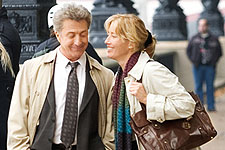 Upset by this rejection, Harvey decides to head home, only for fate to intervene when he misses his flight and strikes up a conversation at the airport with Kate (Emma Thompson), a disheveled statistics officer unhappily resigned to a life of singledom and constant harassment by a meddling mother (Eileen Atkins). After an awkward start, they hit it off, and Harvey decides to stay in London for a few more days.
Things get no more surprising from there, and with the outcome in no doubt, the film relaxes into a series of engaging exchanges between the stars as they roam around London's most picturesque locations — not unlike "Before Sunrise/Sunset" with grayer skies and blunter edges.
It works — even through such unwelcome stock rom-com detours as a makeover scene for Thompson's character and a perfunctory final-act complication in the "Affair to Remember" vein — both because Hoffman and Thompson are such compelling individual presences, and because the dynamic between them is so warm and unforced. With Hoffman's rumpled charm gradually thawing Thompson's tart-sweet reserve, there's an updated Tracy-Hepburn quality to their interplay.
Hoffman does the heavier lifting dramatically, etching Harvey's misplaced sense of purpose with quite painful precision in the film's early scenes. His most devastating moment comes in Harvey's reunion with his daughter, which finds him so tense and tentative he can barely touch her; Hoffman's control of body language and facial expression is exquisitely judged here.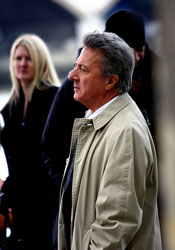 Throughout, the performance avoids the simple cuddliness that has characterized much of Hoffman's recent work; he certainly hasn't been this human on screen since "Moonlight Mile" in 2002.
Thompson's character arc is less developed, but as she articulates the deeply internalized insecurities that middle age has awakened in Kate, the performance emerges as a fuller, richer expansion of the wonderful character sketch she offered in Richard Curtis' "Love Actually" — one of the most empathetic actresses around these days, such contemporary character parts really play to her strengths.
I rarely foreground performance to such an extent in a review, but the fact is that, without the actors' contributions, there would be little to discuss here.
Hopkins clearly knows this. His impressive debut, "Jump Tomorrow," was, tonally and structurally, far more daring, but here his direction is selflessly unfussy.  Meanwhile, his mise-en-scene borders on beige, all of it in the cause of showcasing his two stars with minimal obstruction.
There's much to be said for a film that knows its strengths — and for "Last Chance Harvey," that would be star power in the most old-fashioned, pleasurable sense. Some films just write their own FYC ads.