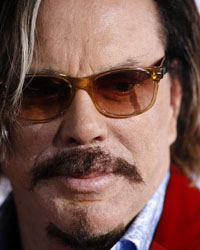 Mickey Rourke fucked up his career.  Who am I to say that though?  I don't get to chastise the guy, pass judgment, even comment really.  It's a cliche to say it, so why not be specific otherwise: Mickey Rourke had some shit to work out.  Who doesn't?
He looks at you with stone eyes that seem to betray the early moments of a blackout.  But after another look, it's clear that he's focused.  He's walking a straight line to spite his former self these days, even if it means lighting up in a non-smoking room to get through the unfamiliar terrain of a major film awards push.  Because fuck it, right?
His pet chihuahua, Loki, moves slowly about the room, using what senses are still available to her after 17 long years, like some externalized representation of Mickey's busted professional life.  But she's still here, isn't she?  So is Mickey.
He's the kind of guy Bob Dylan calls up in the middle of the night with a modest, "Hey, it's Bob."  He's the kind of guy who can tell you he and Bruce Springsteen lost touch for 13 years and mean it.  His fight-ravaged hand cracks after a forceful handshake.  "Everything's still crackin'."  With a smile, no less.
Everything could seem like a name drop but somehow becomes an honest, bard-like story of purpose.  He repeats himself.  Maybe he forgets, maybe he wants to make his point.  Maybe he can't believe it himself — stories of self-destruction or good fortune — so he has to hear himself say the words again.  Introspection seems to come forth like the memorized therapy over a decade on the couch will give you.  But the necessity of that hard work comes through.  This is just where he is for the moment.
He's a steward of the truth and takes his work bringing that truth to bear quite seriously.  He won't even waste time on a biography because he can't get into his associations with the Hell's Angels and John Gotti, so why bother?  It wouldn't be true.
He picks Loki up and sets her on the table.  She digs into what's left of his baked potato, strolls around the table top and finds a place to lie down — and you don't want it any other way.  He leans over, makes the conversation intimate, a secret dialogue between trusting comrades.  But he isn't fake about it.  He probably couldn't be fake about it if he tried.
His facial hair is an assemblage of Brillo-like black sprigs carved into a pirate's mustache and goatee.  He runs his hand over his chin as he talks, sometimes across his lips, the nervous tick of a thoughtful guy who is probably confronted with more self-consideration lately than he's been used to in the past.
He gets most excited when discussing the process of building his character, a method actor through and through and an artist in that right.  He delights in articulating why he chose to do this or that on the screen, to add this prop or that costume particular.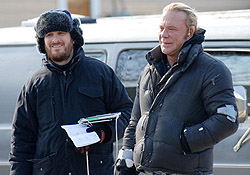 And everything flows into the next thought.  He dominates the conversation, rattling off a stream of consciousness that really need not be interrupted.  But interruption is welcomed nonetheless.
Darren Aronofsky butts in for a moment, probably one of few guys who can call Rourke an "old man" and stay vertical.  "Clint Eastwood would love to work with you."  The "old man" doesn't blink.  "Last time I met him I thought I scared the piss out of him."
His eyes dart around sometimes as he searches for the most truthful way of putting something, an almost boyish characteristic that hints at an excitement at the here and now.  And the ebb and flow of the guy's emotions as he considers this moment of his life or that is plain as day.
The name of his little brother Joey is scrawled in Army green tattoo ink below one of his knuckles.  He talks about "using" Joey's death to dig into the pain of his most recent creation, a broken former stallion of the professional wrestling circuit who eerily reflects Mickey's battered position in an industry that might be just fine without him.
But he's still here.
The one-sheet for "The Wrestler" might prominently feature a quip asking you to "witness the resurrection of Micky Rourke," but the actor didn't find his way out of desperation over night.  It's been a process, and he knows it.  He's taken by the show of respect and encouragement he's received from friends old (Springsteen) and new (Darren Aronofsky).  And though he knows his former self is suppressed somewhere inside, beaten for the moment, he's very aware of the daily struggle that is moving forward.
"Heart of gold" doesn't really say it because it's too on the nose.  You wouldn't call him a teddy bear and "gentle giant" just misses the mark.  But there's a softness behind that intimidating veil that seems desperate to reveal itself.
He wants to tell you some of the dark stuff, wants to gauge your reaction to it.  He wants to be okay dealing with it openly and so he let's it come out unfiltered.  He won't censor himself and he'll take an almost devilish delight in the bad boy persona, even if he isn't much for proving that persona anymore.  But most of all, he's proud of where he is.  He knows what the rocky journey has meant but he owns it all the same.  He's perhaps ashamed of where he was but not of the man those "dark days" molded, and he's willing to tell you about it until you're tired of hearing it…
…or until your time is up.  And so it is.
(Have a listen to my conversation with Rourke below.  The recorder shifted the the middle of the table at some point, so the sound quality isn't very good.  Especially given how soft spoken Mickey is and the fact that the air conditioner was pretty loud.  But it's not impossible.  Aronofsky walks in on us around the 5:00 mark.  Cool moment.  And the barking, of course, belongs to Loky, who finally copped a squat and passed out a few minutes into the interview.)
[display_podcast]