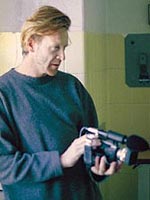 I don't generally throw myself full force behind a contender with the kind of FYC spirit I'm about to project.  We all have our favorites and we all hope this person or that will finally get the recognition deserved, but it's a different thing to full on advocate.  But today, I just can't help myself.
Watching "Slumdog Millionaire" a second time Friday night as part of the AFI Danny Boyle tribute, I was taken once again by the urgent nature of the film's visual style.  It's a direct reflection of Boyle's energetic attitude toward life and the cinema, of course.  But it's also the result of wonderful creativity from cinematographer Anthony Dod Mantle.
Boyle says he first took notice of Mantle's work on the Dogme classic "Festen."  The two first collaborated on television's "Strumpet" before moving into daring digital territory with the modern zombie classic "28 Days Later," and then Mantle moved back to his Dogme roots, taking on projects for Thomas Vinterberg and Lars von Trier with a little Boyle thrown in between (2004's "Millions").
I never much responded to the supposed revelation that was Dogme, so Mantle first caught my eye with "28 Days Later" and especially with Kevin Macdonald's "The Last King of Scotland," where I suddenly felt the earth move under the weight of a new talent's insistence on a refreshingly vigorous intimacy with his photography.
Much like Harris Savides, Cesar Charlone or Rodrigo Prieto, Mantle is finding himself moving in and out of the independent market with eye-popping work that can go unnoticed in the wake of the postcard photography that tends to be singled out during the awards season.  But his work is alive, crackling with immediacy and actively creative in the service of story, never more so than in "Slumdog Millionaire," Boyle's latest vibrant contribution to the silver screen.
The time has come for Mantle to be recognized for the innovation he lends not only this film, but the trade itself.  I fully expect "Slumdog" to find a home in numerous categories, but if I could insist consideration of just one aspect of its elaborate below-the-line construction, it would be for Mantle's contribution.  What fierce life he has captured here.