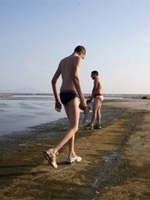 Proof positive that 2008 is a banner year for Italian cinema: Matteo Garrone's "Gomorrah" and Paolo Sorrentino's "Il Divo," both masterpieces of a very different stylistic ilk, lead all nominees for the European Film Awards, with five nominations apiece.
Joing them in the hunt for Best European Film are "The Class" and "Happy-Go-Lucky," which makes four of my favourite films of the year in the list. Rounding out the nominees in that category are "Waltz With Bashir" and "The Orphanage," neither film one to be sniffed at either.
By any standards, that's one hell of a group — I would be very surprised if the eventual five Oscar nominees for Best Picture match that collective quality. I'd be hard pressed to pick a personal favourite, though my gut says the Italian nominees will split the vote, and the wonderful "The Class" will emerge victorious.
Four of those six reappear in the Best European Director category, with Steve McQueen ("Hunger") supplanting Mike Leigh as the British nominee in that race. More puzzlingly, Leigh is also absent in the Best European Screenwriter category — curious, since "Happy-Go-Lucky" strikes me as more of a writerly achievement than the nominated "Waltz With Bashir."
More thoughts, and a full list of nominees, after the cut.
In the Best European Actor category, I'm pleased to see Toni Servillo getting his due for his sterling work in both "Il Divo" and "Gomorrah," while the inclusion of the under-acknowledged James McAvoy for "Atonement" is a pleasant surprise. (It's one of only two nods for the film, which didn't meet the deadline for last year's awards — the other one being for Dario Marianelli's ubiquitous score.) I'm a little disappointed that Mathieu Amalric escaped recognition for his commanding star turn in "A Christmas Tale," but it's a moot point really — "Hunger"'s brilliant Michael Fassbender will surely win this category in a walk.
Best European Actress, meanwhile, looks to be fought between two likely Oscar nominees — the Brit pair of Sally Hawkins and Kristin Scott Thomas. I'd give the edge to Scott Thomas, but "Happy-Go-Lucky" was clearly more popular with the voters than "I've Loved You So Long," which garnered only the one nomination.
Elsewhere in the category, I'm pleased to see a nod for the lovely Hiam Abbass, here competing for the Israeli drama "Lemon Tree," but hopefully on course for further awards recognition this season for her superb work in "The Visitor."
Overall, it's a vintage slate of nominees for an always-classy awards ceremony. The impact of the European Film Awards on the Oscar race is minor, but not imperceptible, especially in the Best Foreign Language Film race. Two years ago, a surprise victory for "The Lives of Others" over "Volver" in the top category raised the German film's profile considerably in the awards derby, leading to another upset on Oscar night. A win here for "Gomorrah," "The Class" or even "Waltz With Bashir" could provide a handy boost for their campaign.
Oscar ruminations aside, however, these 20 year-old awards have a prestige all of their own. Previous  winners of the top award include "A Short Film About Killing," "Breaking the Waves," "Talk to Her" and "Hidden," to name a few — that's company I would want to be in.
Winners will be announced at a Copenhagen ceremony on December 6. The full list of nominees follows:
EUROPEAN FILM 2008
"Il Divo"
"The Class"
"Gomorrah"
"Happy-Go-Lucky"
"The Orphanage"
"Waltz With Bashir"
EUROPEAN DIRECTOR 2008
Laurent Cantet, "The Class"
Andreas Dresen, "Cloud 9"
Ari Folman, "Waltz With Bashir"
Matteo Garrone, "Gomorrah"
Steve McQueen, "Hunger"
Paolo Sorrentino, "Il Divo"
Michael Fassbender, "Hunger"
Thure Lindhardt and Mads Mikkelsen, "Flame & Citron"
James McAvoy, "Atonement"
Toni Servillo, "Gomorrah" and "Il Divo"
Jürgen Vogel, "The Wave"
Elmar Wepper, "Cherry Blossoms"
EUROPEAN ACTRESS 2008
Hiam Abbass, "Lemon Tree"
Arta Dobroshi, "Lorna's Silence"
Sally Hawkins, "Happy-Go-Lucky"
Belen Rueda, "The Orphanage"
Kristin Scott Thomas, "I've Loved You So Long"
Ursula Werner, "Cloud 9"
EUROPEAN SCREENWRITER 2008
Suha Arraf and Eran Riklis, "Lemon Tree"
Maurizio Braucci, Ugo Chiti, Gianni di Gregorio, Matteo Garrone, Massimo Gaudioso and Roberto Saviano, "Gomorrah"
Ari Folman, "Waltz With Bashir"
Paolo Sorrentino, "Il Divo"
CARLO DI PALMA EUROPEAN CINEMATOGRAPHER AWARD 2008
Luca Bigazzi, "Il Divo"
Oscar Faura, "The Orphanage"
Marco Onorato, "Gomorrah"
Sergey Trofimov and Rogier Stoffers, "Mongol"
EUROPEAN FILM ACADEMY PRIX D'EXCELLENCE 2008
Marton Agh for production design, "Delta"
Magdalena Biedrzycka for costume design, "Katyn"
Laurence Briaud for editing, "A Christmas Tale"
Petter Fladeby for sound design, "O' Horten"
EUROPEAN COMPOSER 2008
Tuur Florizoone, "Moscow, Belgium"
Dario Marianelli, "Atonement"
Max Richter, "Waltz With Bashir"
Fernando Velázquez, "The Orphanage"