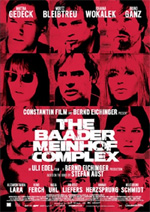 At least, that's the message I get from Pete Hammond's latest column, in which he somewhat half-heartedly claims that the Best Picture frontrunners at this stage are "WALL-E," "The Dark Knight" and "Changeling." In that order, apparently — with "Slumdog Millionaire" creeping up behind.
I realize Hammond has access to more Academy members than I do (not hard, since I know none), but I find that hard to swallow. Of the summer blockbusters, "The Dark Knight" looks to me to have more campaigning momentum than "WALL-E," though I'm still not predicting it as a nominee. And I can't see "Changeling" making much headway in the race with such a mixed critical reception. Surely, of the seen contenders, "Slumdog Millionaire" is ahead of all three. What I really learn from this is that Academy members clearly need to see more movies.
More helpful to me is this tidbit Hammond offers on the Best Foreign Language Film race:
From what we've been told only Germany, Japan and Russia have made any significant impact, with Italy's Cannes Grand Prix winner, "Gomorra," getting predictions that it will be one of the final five, despite mixed response from some who frowned on its generous amount of violence. And the Portuguese film "Our Beloved Month of August" was apparently so poorly received that some members were trying to leave before they could "officially" exit and still receive credit for seeing it.
This is all to be expected. I've already said "The Baader Meinhof Complex" ticks an awful lot of Academy boxes, even if I think there are better films in the hunt. Russia's "The Mermaid" has had positive buzz around it for a while. The warm reception for Japan's "Departures" is news to me, but then, the Japanese have a long, healthy track record in the category.
I'm not surprised to hear that "Gomorrah" is proving to be a tough sell with certain more squeamish voters, but I maintain that the new voting system in the category pretty much assures it a spot on the shortlist, at least — I'm guessing it may miss the initial cut, and will be one of the three additional titles added to the list by the executive voting committee.
So no real revelations, but as Hammond himself says, there's not an awful lot to write about in the race right now. (Still, that's no excuse for sloppiness. In the same post, he dismisses "Ballast" as a "bleak, glacially-paced black-and-white tone poem," which misses two points: a) it's rather lovely, even if its Oscar chances are nil; and b) it's actually in color. The devil's in the details.)