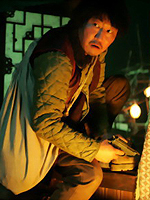 AFI Fest is moving along rather quietly this season.  Most eyes have been turned toward the opening gala "Doubt" and centerpiece screenings like "Che" and "The Wrestler," while most are probably just waiting for the next big reveal on Sunday as "Defiance" closes us out.  Tonight's Danny Boyle tribute is sure to draw a crowd, while Michelle Williams and Jeff Goldblum will be here to peddle their Oscar hopes over the weekend.
The movies are really just last gasps of the festival season at this point, though.  Not a lot of new terrain, but plenty to chew on for a cinephile.  I try to keep up, but I don't pretend to be as dogged as John and Guy have proved to be.  It takes a special kind of torture.  But AFI is really coming off as a distraction more than anything, what with a number of Oscar hopefuls yet to be unveiled at a time when, generally, all cards are on the table.
But we'll push through.  A couple more looks this week:
"DOUBT" (**)
The problem with "Doubt" isn't Meryl Streep's over-the-top performance as a helfire-and-brimstone-breathing nun on a personal witch hunt.  It isn't in Philip Seymour Hoffman's controlled but confused portrayal, the actor seemingly lost in the ambiguities of the story and, indeed, the character.  It isn't even in the rather cut-and-paste approach to bringing the story from the stage to the screen, thereby sapping it of intimate dramatic impact.
Mainly, the trouble with "Doubt" is how drastically uncinematic it is.  Despite having a great lenser like Roger Deakins behind the camera, and a design team to die for otherwise, John Patrick Shanley seems to have neutered his story's potential for screen resonance.  A dutch angle here and there doesn't cut it.  With the amount of tension on display in a narrative like this, you'd expect an artistic comment to that end.  But it doesn't come.  And the end result is simply a play on celluloid.
Streep chews the scenery so rigorously there seems to be shreds of Amy Adams's habit stuck in her teeth.  Adams, for her part, is serviceable in what could have been a throwaway performance.  She brings life to naivete in a manner only she could manage (cornering a market for herself in that way).  But Viola Davis is the film's stand-out.  In two brief scenes she puts on a clinic for powerful, dramatic, gut-wrenching emoting that doesn't betray a sense of dishonesty.  With tears in her eyes and snot moving glacially from her nose, she owns her portion of the film and seems to be the most concentrated performer in the mix.
"THE GOOD, THE BAD, THE WEIRD" (***)
Kim Ji-woon's energy-charged homage to Sergio Leone is a visceral movie-going experience…until it settles for being merely a delightful diversion somewhere in the third act.  Featuring two dynamic performances — in what should have been a terrific trio, but Jung Woo-sung seems to have no idea what he's doing in this piece — the film explodes from the starting gun.  A creative opening credits sequence plunges the viewer into an initial action set piece that leaves that "What the fuck?" smile across your face for the better part of 20 minutes.
I haven't familiarized myself with Ji-woon's work to date, but if the rest of his portfolio bears as much distinctive panache as this film, count me interested.  However, the Leon-esque narrative of "The Good, the Bad, the Weird" comes to a strange screeching halt in the middle of a climactic, sense-punishing sequence at the film's end and loses sight of itself.  Lee Byun-hung's until-that-moment stirring and unsettling portrayal becomes as lost as Woo-sung's clueless "good" warrior, while the delightful antics provided by Song Kang-ho throughout suddenly become pointless asides lacking the guffaw-inducing hilarity they had not 15 minutes prior.
But regardless, Ji-woon's film is a rousing good time full of innovative visuals and certainly a wonderful sense of humor.  Diversion it might be, but no diversion has any business being this fun.
"GOMORRAH" (***1/2)
(This capsule review is copied from an earlier post as part of our AFI Fest coverage.) Matteo Garrone's patch-work narrative might seem trite and even trendy at first mention, but the menagerie works because it isn't pretentious.  There is no sense of contrivance or expressed intent to make these five separate narratives comment toward one another or intersect in a nifty manner.
The assemblage is borderline slap-dash and is more impactful as a result.  In a sense, Garrone has cooked up five tense, detailed short films and simply sifted them together.  All roads lead to nowhere, and a list of sobering Camorra facts at the end of the film really sticks with the viewer — especially that last doozy.
The most arresting of the yarns is probably the tale of two doofuses, a pair of cocksure misfits that get what's coming to them and stand as poster children for keeping your nose clean, among other more shaded intricacies.  But I was most moved by Gianfelice Imparato's work as a gun-runner losing himself in the haze of gunfire and accelerated violence in the Camorra.
Garrone and company have done a fine job drawing a lot of valuable concentrate from Roberto Saviano's book and could do well to be recognized for their work on the page.  But I won't hold my breath.