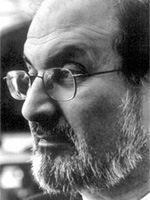 I think, as of today, Deepa Mehta is officially the bravest woman in movies.
My reason for saying this? Well, she's only taking on the small task of filming Salman Rushdie's "Midnight's Children," a novel so vast in scope and fanciful in tone that no filmmaker has dared touch it since its publication in 1981. Screen Daily reports:
The film-maker announced the film with Rushdie today, at the eighth annual Mahindra Indo-American Arts Council Film Festival following last night's New York premiere of her latest film, Heaven On Earth.

The partners will start writing in March and expect to begin production at the end of 2010 on Rushdie's 1981 allegorical tale about the country of his birth. The story is told through the eyes of Saleem Sinai, one of many characters born at the stroke of midnight on August 15 1947 when India gained independence from the British Empire.
The idea of Rushdie adapting his own work is intriguing — on the one hand, he has no screenwriting experience, but on the other, "Midnight's Children" is such a dense, idiosyncratic piece of storytelling that perhaps only he can really unpick it.
Mehta, meanwhile, is an interesting choice for the material — someone whose work combines keen social awareness with occasionally dreamy visual impressionism. Her Oscar nomination for "Water" notwithstanding, she's never quite made a completely great film in my eyes, but this could be her moment. A film of "Midnight's Children" can only be spectacular, whether in its success or its failure. Good luck to her.