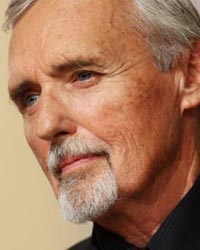 The voice on other end of the line sounds nothing like the many wild and somewhat insane characters Dennis Hopper has portrayed throughout his career, which now spans more than 50 years. This is a man who has walked with James Dean (his mentor), John Wayne (who affectionately labeled him a "pinko") and Francis Ford Coppola.
As a director, Hopper was part of the movement that would bring the New American Cinema into play, closing the 1960s with his biker flick "Easy Rider," and though he won prizes at Cannes and was hailed around the world, he has rarely directed since.
Hopper portrayed perhaps the single most terrifying character in a film with his seething work as Frank Booth in David Lynch's "Blue Velvet.'  The same year he was nominated for an Oscar for his work as the town drunk seeking redemption with his son through basketball in "Hoosiers."  Even Hopper was stunned that the Academy failed to nominate him for Lynch's film instead.  He remembers roaring, "HOOSIERS?  You're kiddin' me, man" when being told of the nomination. "Blue Velvet" was a film the Academy obviously feared, allowing a single nomination to David Lynch for his dreamy, surrealistic direction of the classic.
Currently Hopper is celebrating the upcoming DVD release and a low-key Oscar campaign for Best Supporting Actor in "Elegy," a fine little film in which he portrays the poet best friend of Ben Kingsley's introspective professor — Sir Ben as Hopper calls him.
"I was a big fan of Isabel's [Coixet, the film's director] work", he explains. "So when my agent called and said I had an offer to be in a film with Sir Ben Kingsley and Penelope Cruz, I jumped in. It was a very human story, the sort of film I like to see, and being a big fan of Philip Roth helped me along. The film had comedy and tragedy, and most of all characters I think we can all identify with."
Isabel offered the cast "a lot of freedom on the set," Hopper continues, "which I require because I like to create and the best directors offer this — which is why they are great. I mean Francis was all about improvisation on 'Apocalypse.'"
When he started out in Hollywood in the 1950 at Warner Bros., Hopper was convinced he was the finest young actor in the business at that time. He then encountered James Dean when cast in "Rebel Without a Cause" and saw some extraordinary things from the young actor that he had never before seen. Hopper had been committed to the English style of performance, Shakespearean acting, as he adored the work of the Bard.  He had never before encountered improvisation.
"Watching Dean, I mean, I had just never seen anything like that before," he explains.  "He tossed the script aside and just went for it. I grabbed him one day after shooting and asked him, what are you doing, man, how can I do what you are doing? He was older than me, by four years, and it was not as though we hung out, but he taught me, he became the mentor to me on set.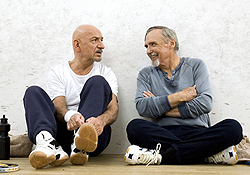 Dean taught Hopper  "to act in the moment," he continues.  "If I was drinking, then drink, if I was smoking, then smoke, if I was living the moment, the rest would take care of itself, and he was right. Just be it, the truth of the moment is everything. On 'Giant,' in which I had a larger role, he asked me to watch him during his scenes as an older man, and we took care of each other. He was something."
John Wayne — or "Duke Wayne," has Hopper refers to the iconic actor — was a whole other story.  The two worked together on "The Sons of Katie Elder" and "True Grit," for which Wayne won the Oscar for Best Actor.  "I'll tell you this," he says.  "He was a hell of a finer actor than he was given credit for being while he was alive.  I was and am good friends with his boys, so I became his very favorite pet 'pinko.' One time on the set of 'The Sons of Katie Elder' I had a bad case of athlete's foot and put some powder on my feet before slipping my boots back on.  I had gotten some on my pants and Duke noticed. He ambled over and put his arm around me and I am thinking 'Oh Christ…what now,' because this was a big man.  'Kid stay off that powder…it'll kill ya.' He was The Duke, and I loved working with him.  'True Grit' was a pleasure.  And I never told him it was athlete's foot powder"
After acclaim at Cannes for "Easy Rider"  in 1969 and the enormous success of the film, Hopper became a power in the business. His brash behavior quickly alienated him from the studios, offending Oscar winner George Cukor at a party given by Peter Bogdonavich, ranting relentlessly to Cukor, "You guys are finished.  We are in now…it's our time." His next film, "The Last Movie," was very nearly just that for Hopper.  The film was judged a mess by Universal and was never released wide despite a Best Film prize at the Venice fest.
From there Hopper bashed around the 1970s, indulging in drugs, bouncing back in Coppola's "Apocalypse Now" and then slowly getting clean.  He made a huge comeback in 1986 with "Blue Velvet," which earned the actor Best Supporting Actor prizes from the Los Angeles Film Critics Association and the National Society Film Critics.
In the years since Hopper has divided his time between the big screen and television, directing two more films.  "Colors" and "The Hot Spot" were both critical hits.  He has enjoyed sporadic success in film roles from time to time. He was quite wonderful in "Flashback" and downright frightening in "River's Edge" and "Speed," and you know what, as I told him, he was great fun in "Waterworld."
"'Waterworld' was a blast", he remembers, "partly because I had never bee to Hawaii and spending four months there on the film was not so terribly hard. It was a fun shoot, and [Kevin] Costner worked his ass off on that picture. It did more than four hundred million worldwide so I don't understand why the American critics refer to it as a flop."
He is about to be seen in the new television series "Crash," loosely based on the Oscar-winning film, and he admits television has been a major source of work these last few years.
"It's all about the work, the quality of the role for me," he laughs.
Dennis Hopper…lucid, polite and downright nice.  Based on his performances, who would have thought?