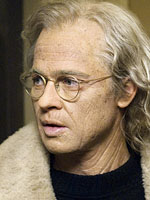 In a year I maintain to be disappointing, I must confess that the sprint to the finish is looking more and more exciting all the time, with an exceptional crop of actors vying for Best Actor nominations. This could very well be the year that Clint Eastwood wins an acting Oscar, or that the previously washed-up Mickey Rourke wins for "The Wrestler."
At this writing I have 12 actors who could potentially land in the field of play, though in fairness, four of the films have not been widely seen and I am going on the buzz and speculation within the industry right now.
There seems to be a lot of belief that Richard Jenkins, a wonderful character actor who has been around forever, could land a nomination for "The Visitor."  He came back into the public eye as the dead father in HBO's critically acclaimed "Six Feet Under" and has been working consistently ever since.  This year he did a nice job as the heart and soul of the Coen brothers' "Burn After Reading."  If the studio can mount a decent campaign and keep him in the minds of the voters, he may nab a nomination.
But he could easily be left out. Remember Michael Douglas in "Wonder Boys"? After the film's November re-release for awards consideration helped him win the Los Angeles Film Critics Association award for Best Actor, everyone was stunned when he failed to land a nomination with the Academy.
Clint Eastwood seems a lock for "Gran Torino," though next to nobody has seen the film. Pete Hammond at The Envelope reported second-hand gossip from an insider: "The old guy could actually win it all for this one. He's THAT good in this." Eastwood has twice been nominated before and should have been for "The Bridges of Madison County."  The Academy loves him and he is a well-respected actor as well as director.
Now the younger guys are really cooking this year, led by the great Sean Penn in "Milk," which some are touting as the finest work of his career. Never before has he been this warm and accessible on screen, creating a character the audience will truly like.
Leonardo DiCaprio, meanwhile, might be the greatest actor of his generation, and has been superb in the past.  There is strong buzz for his performance in "Revolutionary Road," which will very likely land him a nod for Best Actor and perhaps the award itself.
Paramount is being rather low key about Brad Pitt's chances in "The Curious Case of Benjamin Button," but again, we have an actor who has been deserving of a nomination before.  Just last year he should have been in the game for "The Assassination of Jesse James by the Coward Robert Ford."  But "Button" certainly seems to offer him a chance to flex his acting muscles and silence the critics.  Then again, we are dealing with a guy thought more of as a movie star than an actor.
Veteran actors Frank Langella and Dustin Hoffman are both going to be campaigned for their work in "Frost/Nixon" and "Last Chance Harvey" respectively, and each could earn a nod for their performances.  Langella, however, seems to be the more likely possibility at the moment. Hoffman, a wonderful actor has twice won the lead actor trophy and been nominated several times, while Langella is still waiting for that elusive first nomination.
And the comeback kid (of sorts), Mickey Rourke, a man I never thought would give another great performance, could be the guy to take the whole thing for his stunning work in "The Wrestler."  The work has been called a performance for the ages.
I have always admired Rourke's work, but I know for a fact there a lot of people who are not rooting for him. The man made his fair share of enemies in the 1980s and 1990s, and though he is back in the movies, those burned bridges might come back to haunt him. That said, he has given a performance that cannot be denied at least a nomination. And has the AMPAS not forgiven worse behavior than Rourke's in the past?
Outside chances for a nomination could be Josh Brolin, for his wickedly funny President George W. Bush in "W"; Michael Sheen for "Frost/ Nixon," though I believe he will end up in the supporting actor category; Benicio Del Toro in "Che," whose minimalist acting will be recognized if there is a God; and I am going to throw it out there: Robert Downey Jr. for "Iron Man." He is beloved, the real comeback kid of the year.
And I suppose we should never exclude Will Smith, who has been nominated twice before and could end up among the five for "Seven Pounds."
Will they go for sentiment and allow both Eastwood and Jenkins nominations? Will Rourke even be nominated? Could a surprise double Best Actor for "Frost/ Nixon" bump one of my choices?  It all could happen, folks. You just never know. The single sure thing about the Academy Awards and their nominations is that there is never a sure thing. EVER.
But for the moment, I'm going with DiCaprio, Eastwood, Langella, Penn and Rourke.
Have your say.  Who are you currently predicting for a Best Actor nomination?