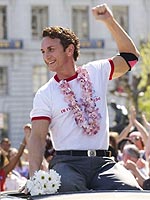 I find myself just now making sense of the passing of Proposition 8 here in California, an appalling measure that, however naive it may be to admit, I really thought had no chance of passing.
Well, it has.  Homosexual couples are banned from exchanging vows like the rest of the country, and beyond rage and outright disgust, I'm left saddened and somewhat unable to fully enjoy Obama's convincing victory.
What the hell is wrong with this country when one of the most liberal states in the union, a battleground, in fact, for gay rights, passes such a despicable pieces of legislation?  But more to the point of our beat here at In Contention, I'm left wondering whether an October release for "Milk" could have made a difference.
A large portion of the film is dedicated to the fight against Proposition 6, a 1978 ballot measure that would have cost homosexuals working as educators their jobs.  Their careers were at stake 30 years ago.  Yesterday, it was their right to wed — and with wicked political conniving, the proponents of Prop 8 made this year's fight about school in the end, just like Prop 6.  "They'll teach gay marriage in schools," ignorant imbeciles would scream.  "They'll tell my son it's okay for a man to marry a man."  Well, "they" would be right, but that's beside the point.
Writing in The New York Times over the weekend, Jesse McKinley covered some of this terrain:
In many ways, the battle sparked by this latest proposal echoes the one that inspired Mr. Milk's most famous crusade.

"It's surreal," said Cleve Jones, a veteran civil rights activist who is portrayed by a curly headed Emilie Hirsch in the film. "It's like there's a 30-year cycle."

Call it life imitating "Milk," or vice versa, but the parallels between the campaign chronicled in the movie and the real-life battle over Proposition 8 are striking. Social conservatives pitted against gay activists? Check. A Republican governor (and former movie star) siding with gay Californians? Check. Close polls, a nationally watched campaign, the potential for heartbreak?

Check, check, check.
But, again, that was the weekend.  Now, it's the day after.  And I can't help but wonder what "Milk" might have meant for today's cause, if anything, had it landed in the marketplace last month.
Some of the film's most inspiring and, indeed, captivating moments come during the sequence that details the Prop 6 fight.  Consistently, Harvey Milk (Sean Penn's career-best portrayal) makes the point, to paraphrase, "We have to make them understand that they know us."  That message, I think, might have carried a lot of heft if voters had made it to the polls four weeks later.
But I'm not a studio head and I don't make these decisions.  A studio's priority is, of course, to shareholders, and "Milk" is likely to make more money in its current release plan than something earlier in the season.  But you can't help but wonder what might have been.  And you can't "give 'em hope" after the fact.