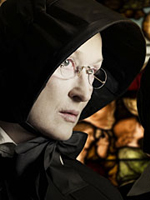 To bring it back to Oscar talk for a moment, the first curiosity is that people are still talking about the film when asked to refrain from doing so until an actual print is shown, but that aside, Dave Karger presents the case again (to back up his top 3 assertion in the recent issue of Entertainment Weekly) that John Patrick Shanley's "Doubt" is heading for a Best Picture nomination.  He remarks:
It's looking fairly likely that four of the film's actors—Streep, Hoffman, Amy Adams, and Viola Davis—will earn acting nominations for their work in the movie. Since the Academy Awards began, 22 films have received four or more acting nominations. All 22 of them also made it into the Best Picture race. So for now, Doubt's got Oscar history on its side. But if one member of its acting quartet begins to lose momentum (Adams is probably the shakiest of the four, since her role is the least showy), then I could very easily end up being dead wrong.
I won't go into my thoughts on the film yet, no matter how much the chatter makes me want to (especially since I'm beginning to suspect I have a minority opinion — at least among those who've seen it so far).  But suffice it to say, I think all this rationalizing might be a touch off base.  One, probably two of the actors are secure.  Of the others, one needs publicity to keep an eye on the ball (brief but powerful, as expected), while one needs the coattails of major awards attention.  We'll see.