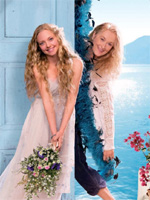 It's at moments like this that I would like to point out that I'm not really British. Yes, I live there. Yes, I have a British passport and a somewhat malformed British accent. But I was born in South Africa and hold those last two items in a South African flavor too. For the moment, at least, I'm calling myself South African.
The reason for the cultural distancing? Well, it has something (okay, everything) to do with the fact that "Mamma Mia!" is on course to become the highest-grossing film of all time in the UK.
It is currently sitting in second place, with £67.4 million — with the record £69 million gross of "Titanic" only a heartbeat away. It will more than likely happen — 16 weeks into its run, recently released "singalong" versions (shudder) are giving it renewed life.
Words fail me. True, I can't stand "Titanic" either. But at least it was a massive, self-mythologising event of a movie, one that broke some ground in the industry (if not in the artform) and represented a clear 'moment' in pop culture history. It was a film, in other words, whose stature and influence befitted such records.
"Mamma Mia!", on the other hand, has Meryl Streep belting "The Winner Takes It All" on a pastel-hued Greek island, like the floor show at some ghastly Sandals resort. If this is any cultural representation of the current British generation, we're as confused as we are doomed.
And you thought America was the only country whose credibility was at stake today.
On a side note, it's interesting to draw a parallel here with "The Dark Knight." With Christopher Nolan's film devouring the US box-office this summer, there have been calls for the Academy to fall in line with public tastes and consequently recognise its significant cultural achievement with a Best Picture nomination.
By that rationale, should the Brits start lobbying BAFTA for a "Mamma Mia!" sweep, come February? It only seems fair, complicating factors of crapness aside.