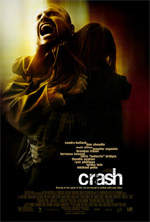 As the world prepares to bid farewell to George W. Bush following tomorrow's election, I came across an apt article in the new edition of Sight and Sound, in which critic Michael Atkinson evaluates how the Bush presidency affected American film, and how the period might be interpreted by future film historians. As always with S&S pieces, it's not available online, but it's an insightful (and occasionally contentious) piece worth tracking down if you want to give a cinematic spin to your sense of closure.
As has been noted before, Atkinson believes that the sense of public panic and political insecurity that  characterised the presidency has been most clearly manifested in the resurgence of the superhero movie:
It's easy to imagine that in a decade or two, the Bush years will be viewed as the discouraging ebb in the pop-cult continuum when everyone from eight to 80 was excited about 'super powers' … Clearly, a preadolescent bout of night terrors required succour, producing a trend that's bound to date as badly as the Spielbergian blue light and Rambotics of the 1980s.

This is the kiddie-escapist paradigm tinctured with memories of 9/11; today, the vigilantes in primary-colour tights we hanker for don't confront the conjectural fears of the Cold War, but the all-too-tangible, falling-bodies verities of the new millennium. In "The Dark Knight," Christian Bale's Batman has to wrestle, as the Bush administration didn't, with the necessity of being perceived as evil for the sake of what's construed as the common good.
Further on in the article, Atkinson moves away from fantasy, and ponders the relevance of the wave of bleak, socially conscious dramas made in recent years, which he terms the "Crash" microgenre, also encompassing such films as "Mystic River," "Babel" and "Little Children." He concludes that, in future years, they will reveal far more about the country's political state during these years than the various Iraq-themed films that have been made:
No historian will typify the Bush years with "Redacted" or "Rendition," but the monuments to our narcissism may still be standing. Few 'serious' subjects moved Americans more than their neighbours' imperfections; the "Crash" microgenre may well represent an unconscious effort to understand how we — or they; the rich, the immigrants, the upwardly mobile blacks, the addicts, the paedophiles — allowed the Bush administration to form in the first place.
Interesting stuff, and a well-timed bit of commentary. Hell, if by some miracle you're still undecided about who to vote for, maybe think in terms of which president will make for more interesting cinema. No, maybe don't.
Happy voting, America.